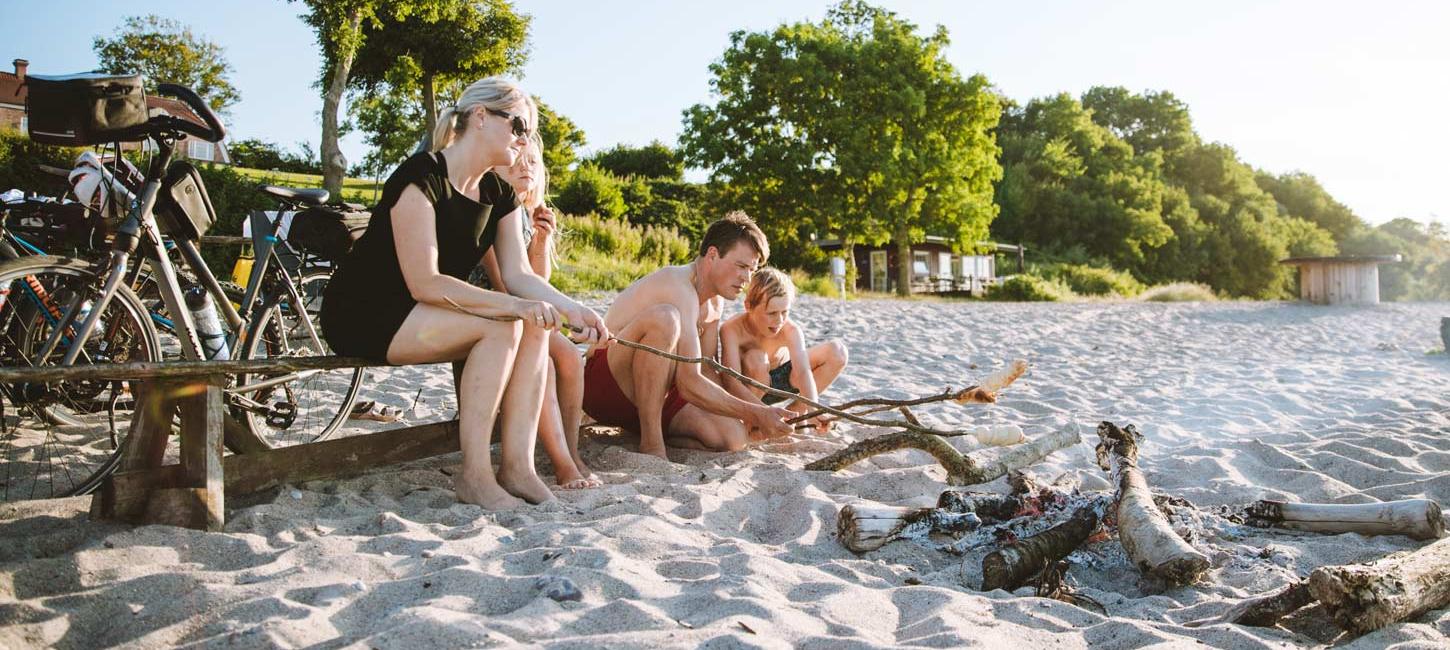 Family holiday in Sønderjylland
Photo:
Destination Sønderjylland
Take the family with you to Sønderjylland and enjoy a holiday full of great experiences for young and old alike. Sønderjylland offers a wide range of activities and attractions which guarantee that both adults and children will have a great holiday. 
Things to do
Regardless of whether you have small children or teenagers with you on holiday in Sønderjylland, you can be sure of finding plenty of enjoyable activities for them. On a warm summer day, the beach is an obvious destination; here you can have fun in the water, build sandcastles, play beach volleyball, drive blo-karts and much more besides. If you have young children with you on holiday, you may feel more comfortable on the quieter beaches on the east coast, where the waves are smaller than those on the west coast. The lake at Vedsted Sø makes a good alternative, where you find calmer waters and a wealth of activities.
For most children, holidays are all about having fun and being entertained, but in Sønderjylland you can actually combine these two things with learning. At Universe Science Park there's focus on fun experiences that at the same time teach children (and sometimes also adults!) about science and technology. There are activities for children of all ages, and the park is an absolute must when on a family holiday in Sønderjylland.
Overnight accommodation
When you have children with you on holiday, you need to think carefully about where to stay the night. Perhaps it's best to stay somewhere where there are other children with whom they can play? Perhaps having your own bathroom and toilet would be a plus? Throughout Sønderjylland you can be sure of finding overnight accommodation that matches your family's wishes and needs. Have you considered the merits of a camping holiday, for example? Many of the area's campsites have playgrounds, swimming pools and activities for children. This means that the kids have a good time and, as a parent, you have the chance to relax. Remember that camping isn't only for those with their own caravan. Most campsites also have huts and apartments if you wish to enjoy all the benefits of a campsite, but don't have your own caravan.
If camping isn't really your scene, then take a look at the many holiday homes and hostels that are found in Sønderjylland. Both these types of accommodation are ideal for families with children. Holiday homes are available all over Sønderjylland, either on the coast, in the middle of the beautiful countryside or close to the region's busy market towns. Hostels are typically found in larger towns – close to attractions, places to eat, etc.
The west coast of Sønderjylland
In our opinion, the west coast in Sønderjylland is absolutely perfect! Here you find the most beautiful scenery in the Wadden Sea National Park, whilst the birdlife in the area is quite unlike anywhere else in Denmark. There are also lots of seals, which are always popular with the youngest members of the family. When you and your family feel the need to relax, then fortunately some of Denmark's loveliest beaches aren't far away, such as the beaches on the island of Rømø. If you visit the west coast on your holiday, then make sure you don't miss out on a visit to Marsk Tower. The spiral-shaped tower, which was designed by Danish architects BIG, towers over the marsh, and on days when visibility is good, you can see all the way to Ribe and the islands of Sild and Rømø.
The campaign is funded in part by Danmarks Erhvervsfremmebestyrelse