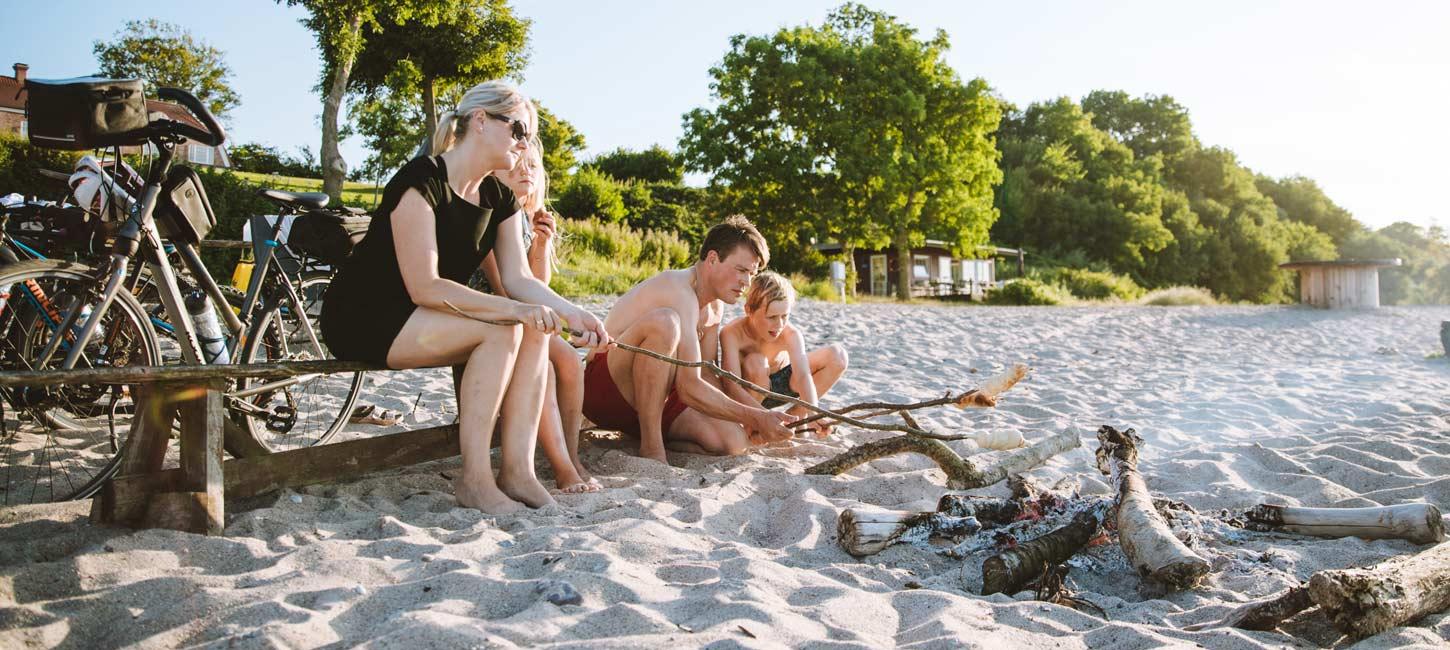 Family holiday in Sønderjylland
Take the family with you to Sønderjylland and enjoy a holiday full of fun experiences for the whole family. Sønderjylland offers a wide range of activities and attractions that guarantee that both children and adults can enjoy a great holiday.
Staying overnight
When you have children with you on holiday, then the choice of overnight accommodation takes on extra importance. Perhaps it would be nice to stay somewhere where there are other children to play with? Or is having your own bathroom and toilet a must? Throughout Sønderjylland, you can be sure of finding a place to stay overnight that matches the wishes and needs of your family.
Have you considered a camping holiday, for example? Many of the region's campsites have playgrounds, pools and activities for the kids. If camping isn't right for your family, then take a look at some of the many holiday homes and holiday resorts that you find in Sønderjylland. Both types of overnight accommodation are ideal for families with children.
Experiences
Regardless of whether you have teenagers or young children with you on holiday in Sønderjylland, then you can be sure of finding fun activities for them. 
Finding activities that are best suited to your family can be a bit confusing, however – simply because there are so many to choose from! We've therefore grouped the activities below into different themes – nature, active, history and indoor activities. This will hopefully make it easier to find the ideal activities for your family.
If you're lucky enough to visit Sønderjylland at a time when you can experience a so-called Sønderjysk Kaffebord, then you really mustn't miss out – we promise you that this traditional huge spread of cakes and coffee is a great experience for the whole family.
Nature experiences
Sønderjylland boasts lovely sandy beaches and refreshing lakes in which you can go for a swim. The region also has beautiful hiking trails and attractive cycle routes in landscapes that range from dense woodland to flat marshland. This diversity of countryside, which is lovely to look at, also contains a wealth of activities for children and adults alike, so there's no excuse for not enjoying a holiday in Sønderjylland.
At booksonderjylland.dk you can buy tickets to a wealth of experiences in the region's countryside. If you visit Sønderjylland outside the high season, make sure you don't miss out on the spectacular murmurations of starlings – known locally as Sort Sol – or an oyster safari.
Active experiences
If you and your family are looking for active experiences during your holiday, there are plenty of opportunities in Sønderjylland. These include daredevil experiences for older children, as well as fun activities where younger children can join in.
You can buy tickets to many of the activities at booksonderjylland.dk.
Historical experiences
Almost wherever you go in Sønderjylland, you'll be close to a piece of Denmark's history. Down through the ages, the region has been the scene of ferocious battles, whilst ongoing disputes in which the region fell into the hands of Prussia/Germany before later returning to Denmark, have also resulted in a unique history.
History doesn't have to be stuffy and boring. At many sites in Sønderjylland there's a focus on interactive experiences and activities that involve both adults and children – you won't just be a spectator! At booksonderjylland.dk you can buy tickets to guided tours and a wealth of historical experiences.
Indoor experiences
Do you and your family need a day out of the sun or is the weather just not suitable for outdoor activities. In Sønderjylland this doesn't have to mean that you end up sitting around getting bored.
You can, for example, go shopping in Borgen shopping centre, visit one of our many museums or work off any excess energy in our indoor playlands.
The campaign is funded in part by Danmarks Erhvervsfremmebestyrelse

VisitSønderjylland © 2023