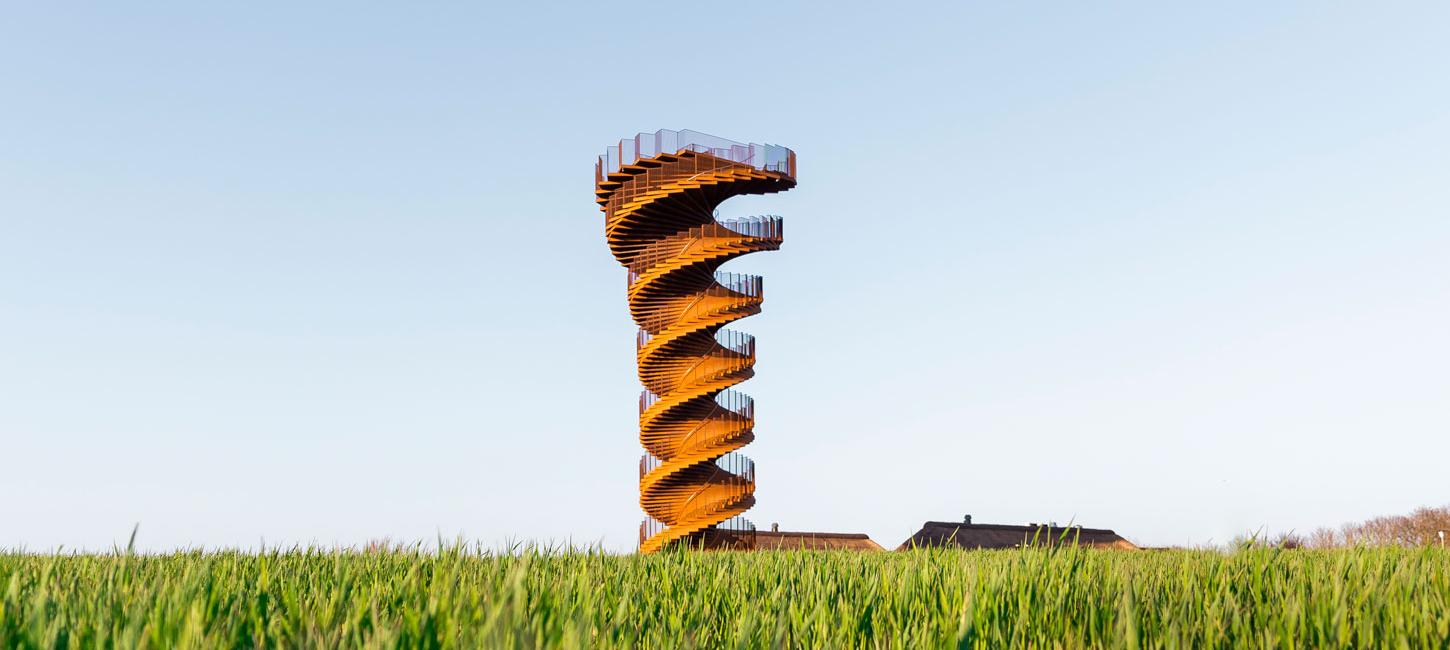 Marsk Camp · Marsk Tower · Restaurant Marsk
Marsk Camp offers unique culinary and nature experiences near the Wadden Sea National Park, which is one of UNESCO's world heritage sites. Look out in all directions as far as the eye can see from the 25-m-high Marsk Tower that winds its way up into the sky.
The 12-hectare site around Sønderjylland's new landmark consists of – in addition to the 25-metre-high Marsk Tower itself – luxurious glamping tents and the campervan site at Marsk Camp, which has a capacity of no less than 126 campervans. In addition, you find Restaurant Marsk, where you can enjoy both lunch and dinner, an ice cream parlour, a large nature playground and an attractive 18-hole miniature golf course.
Marsk Tower
Marsk Tower, the 25-metre-high viewing tower, was drawn by world-renowned architects from Bjarke Ingels Group (BIG). The tower's unique design takes its point of departure in nature and in human DNA. With a height of 36 metres above sea level, the spiral tower is an attraction that can be seen for miles around.
With its unique location in Hjemsted near Skærbæk, Marsk Tower enables you to experience the natural surroundings from the 'best seat in the house', with views of the marsh and Wadden Sea National Park, which has been admitted onto UNESCO's world heritage list and is renowned for its unique nature and spectacular wildlife. In good visibility, you can see all the way to Esbjerg, Sild and Rømø from the large viewing platform.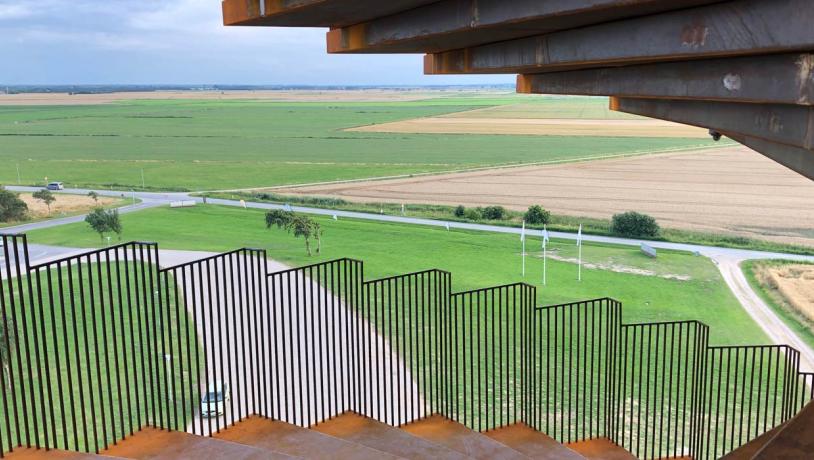 © Marsk Tower (2021) - Bjarke Ingels Group (BIG)
Photo: Destination Sønderjylland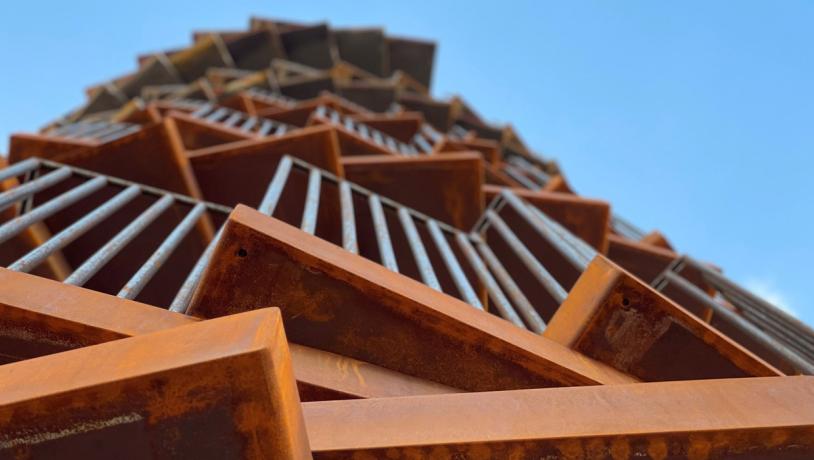 © Marsk Tower (2021) - Bjarke Ingels Group (BIG)
Photo: Marsk Camp
What do we offer?
The four buildings, which contain Reception, Restaurant and Ice Cream Parlour, are part of the original Hjemsted Oldtidspark. The buildings have modern interiors that retain respect for the architecture and their origins. Plenty of rustic and natural materials have thus been used to provide a direct link to the marshes just outside.
At reception, you can buy local specialities, art and pottery, as well as relaxing in the dedicated lounge area. From here, there's access to Restaurant Marsk and the ice cream parlour, as well as a direct connection to the patio area with herb garden, playground and miniature golf course behind the building.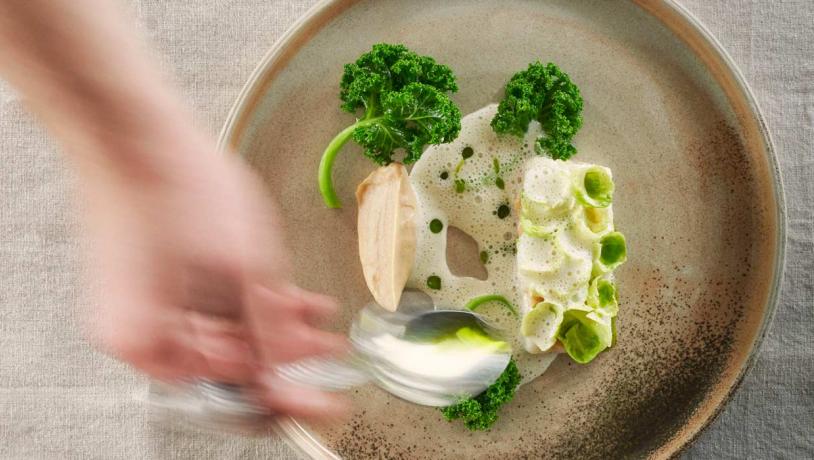 Photo: Marsk Camp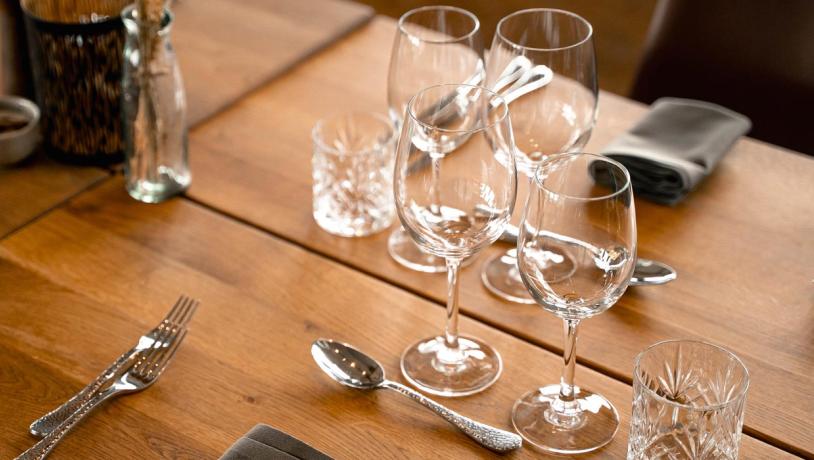 Photo: Marsk Camp
Restaurant Marsk
Our great passion lies in creating taste sensations for everyone, and where creativity and good craftsmanship play an important role in getting the very best out of the season's ingredients. We endeavour to exploit ingredients to the full and to minimise waste.
The food is inspired by the Nordic kitchen, with a hint of French techniques. At Restaurant Marsk, the food is served with love in the delightful surroundings.
It's also possible to hire the facilities for private parties of around 70 guests. From the restaurant there's a great view of Marsk Tower and the marshes.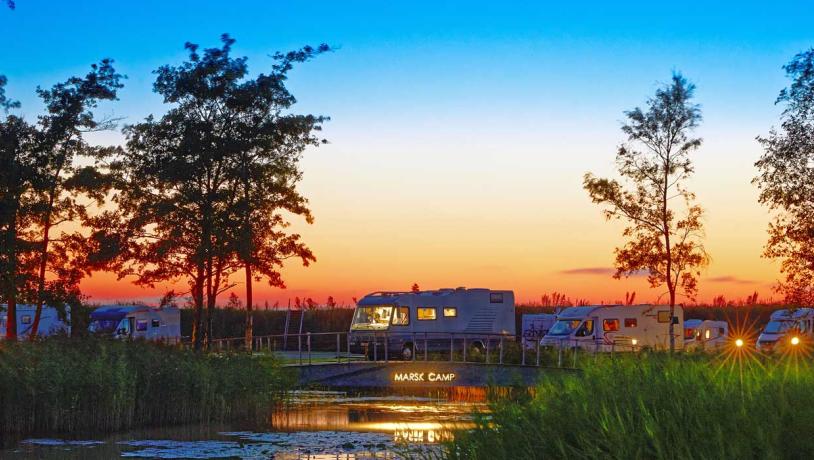 Photo: Marsk Camp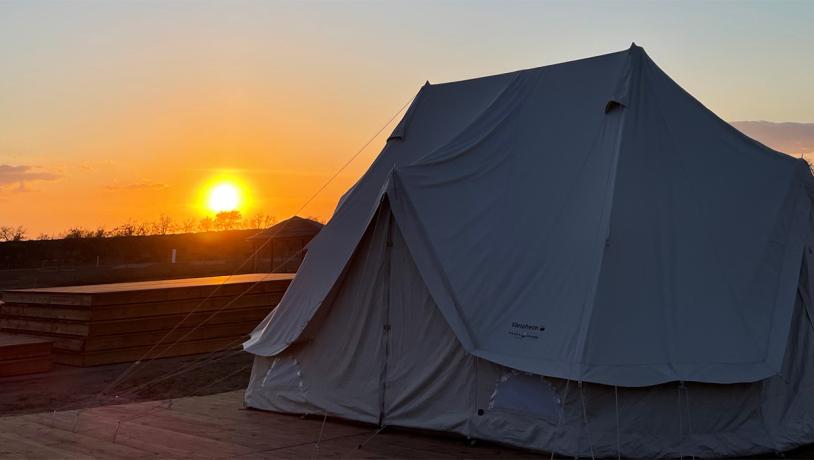 Photo: Marsk Camp
Marsk Glamping
Enjoy an experience close to nature in our luxurious glamping tents, which have a comfortable and cosy interior that includes furniture, box mattress, duvets, pillows and blankets, refrigerator and tableware, in addition to your own terrasse with barbecue and garden furniture. 
Get away from the hustle and bustle of everyday life, and drop down a gear or two. Relax and experience the best of what nature has to offer. 
When you choose glamping at Marsk Camp, you get more than just a luxury tent with access to your own toilet and shower. Here you can also look forward to a unique experience in the marsh and at the Wadden Sea.
We look forward to your visit!
Much more Sønderjylland...