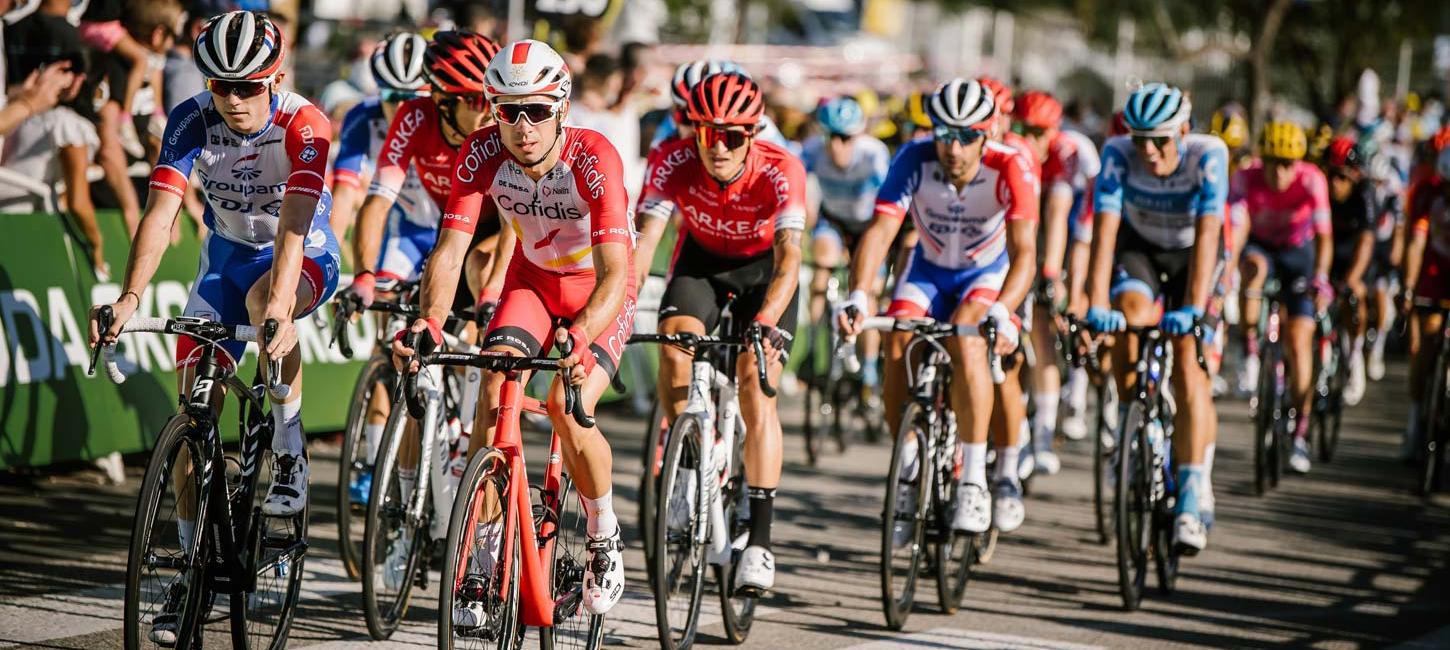 Tour de France in Sønderjylland
Photo:
A.S.O - Pauline Ballet
On July 3rd 2022 the Tour de France hits Sønderjylland – do you want to join in the fun?
Everyone's looking forward to a huge party when Tour de France 2022 gets underway, with the first three stages taking place on Danish soil.
The event will go down in history when on Sunday 3rd July the world's most prestigious cycle race runs through Sønderjylland and crosses the finish line in Sønderborg, where the town will provide an attractive backdrop for a festive conclusion to a Danish cycling fairy tale without parallel.
Following the so-called Grand Départ Copenhague, which is a time trial through central Copenhagen, the second stage will run from Roskilde across the Great Belt Bridge to Nyborg, before the Tour field hits Sønderjylland on the third day. The third and final Danish stage begins in hilly terrain around Vejle, runs past Kolding and down through Sønderjylland's attractive landscape.
The 182-kilometre route from Vejle to Sønderborg is a classic sprinter stage, as well as being an attractive route as the Tour's 22 teams consisting of 176 riders make their way past the UNESCO world heritage sites at Jelling and Christiansfeld, before passing by Dybbøl Banke and the iconic windmill at Dybbøl Mølle. Perspective will be given to the battles that were fought during the two Schleswig Wars in 1848-49 and 1864 respectively, before the Tour de France spectacle arrives at the finish line and turns Sønderborg into a frenzied mass of fans and media.
A couple of Danish riders will without doubt seize the chance to get into a breakaway group, but regardless of whether it ends with a Danish stage win or not, the event itself is a huge victory for Danish cycling, for Denmark and in particular for Sønderjylland, which will steal the limelight as the three days of Tour de Danmark culminate in the region.
Mark the date in your diary now so that you don't miss the Tour de France in Sønderjylland on 3rd July 2022. You'll be able to stand anywhere you like along the route or in the finish area, whilst there'll also be hotspots with giant screens, food stalls, activities and a festive atmosphere along the route.
Sønderjylland – a mecca for cycling tourists
Regardless of whether you visit Sønderjylland during the Tour de France 2022 or at any other time, we highly recommend that you bring your bike – regardless of it is your main mode of transportation or not.
In Sønderjylland you can find cycling trails running north – south and crisscrossing the region. You find short loops that you can easily manage in a day and longer routes where you need one or more overnight stays along the way.
If you need assistance along the way the nearest Bike Friend or Bike Station is never far away. If you want to avoid carrying your luggage, we can also help you transport it.
Much more Sønderjylland...
The campaign is funded in part by Danmarks Erhvervsfremmebestyrelse

VisitSønderjylland © 2023