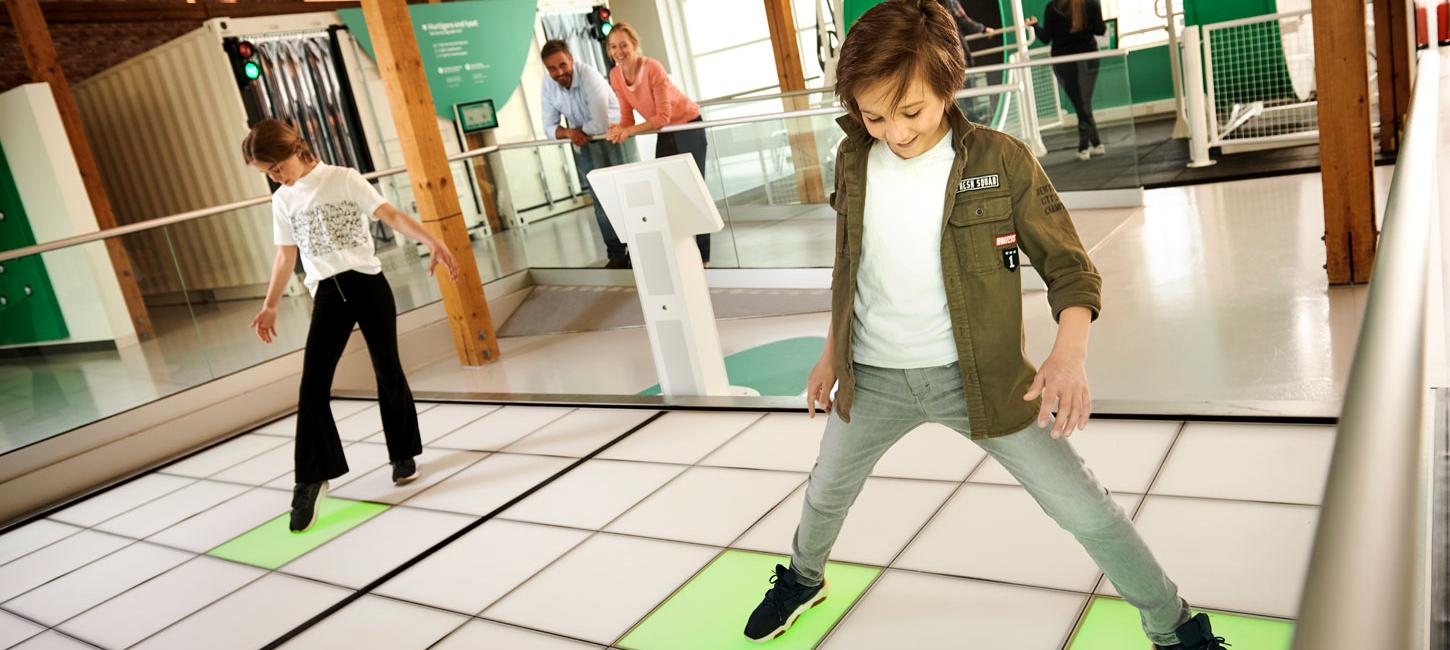 Universe Science Park
Photo:
Universe Science Park
It really is difficult not to be in a good mood as you experience Universe, which is located outside the town of Nordborg on the island of Als.
Judging by the enthusiasm exhibited by children and adults alike as they experience the various attractions, the popularity of the science park is beyond question.
Universe Science Park aims to inspire enthusiasm for science, technology and entrepreneurship amongst children and youngsters. The park thus has a wealth of fantastic adventures and attractions. Here you can attempt to lift a car, build your own water rocket, explore the virtual world or try any number of our many other activities.
Experience excitement and fun with the whole family in Sønderjylland's biggest experience park. Learn about science and technology through play in a fascinating world. We promise you "eureka" moments and stomach-churning thrills.
At Universe in 2023, you can pit yourself against winds of hurricane force in "Beat the Storm", explore a virtual universe in which you can paraglide or design your own rollercoaster. Or you can race off on a Segway, see whether you have a fear of heights on Sky Trail, or else simply enjoy the peace and quiet in one of the beautiful gardens. There are lots of fun and educational activities that await you, ready to create plenty of great memories to take home with you.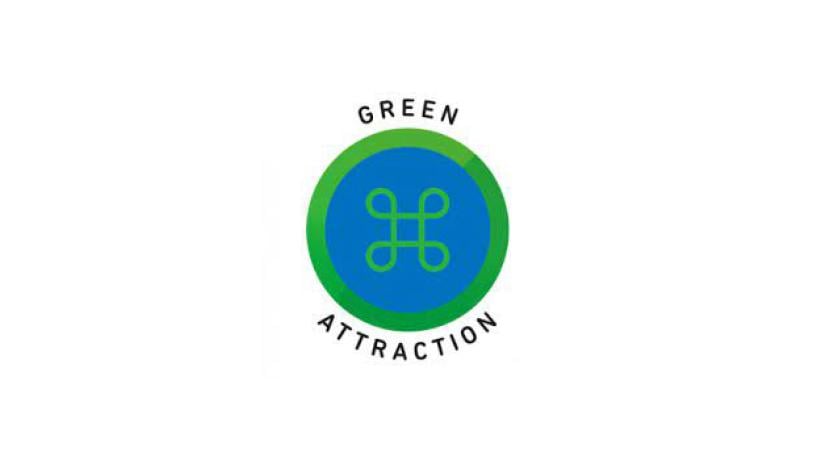 Green Attraction
Universe Science Park is the first attraction in Sønderjylland to be certified with the new Green Attraction environmental label. The label is aimed at attractions with a focus on sustainability, thus making it easier for guests to choose sustainable attractions. Universe has a greater focus on reducing its negative footprint and has implemented sustainable solutions at the park, such as sorting of waste and the use of reusable beakers. The park complies with criteria with respect to water, energy and foodstuffs, and has employed a Green Attraction coordinator to work with sustainable development and to implement green initiatives.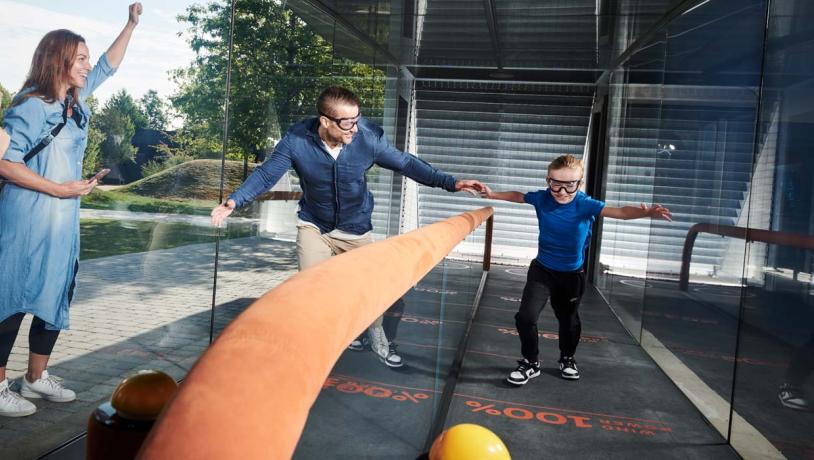 Photo: Universe Science Park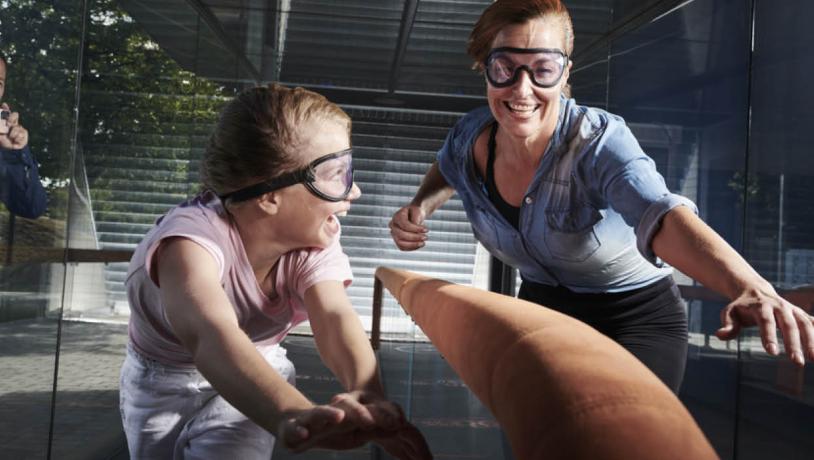 Photo: Universe Science Park
Did you know that...
Universe Science Park is one of Sønderborg's Top Attractions? If you have a combi-ticket for Sønderborg's Top Attractions, you'll be able to visit each of the five attractions – Universe Science Park, History Centre Dybbøl Banke, Sønderborg Castle and the iconic windmill at Dybbøl Mølle – once during the course of the season. The combi-ticket costs DKK 419,- for adults and DKK 289,- for children between the ages of 5 and 17. The ticket is valid from the day you buy it until 22 October 2023 – so you've got plenty of time to visit all four attractions. The combi-ticket can be bought online or at tourist offices in Sønderborg and Aabenraa.
Virtual Reality
In the Virtual Reality area, there are fun adventures for the whole family. Try, for example, the world's first ParadropVR.
Experience a fantastic flight by paraglider above the hilly landscape, whereby pulling the strings enables you to control the height of the paraglider as required, thus giving you a very realistic experience of gliding through the air.
In the VR Coaster, you have the chance to design your very own VR roller coaster ride. You and your finger design the ride; it's entirely up to you how long and how thrilling the ride will be! The complete ride can be experienced along with the rest of your family, as total capacity is for 4 people.
Photo: Universe Science Park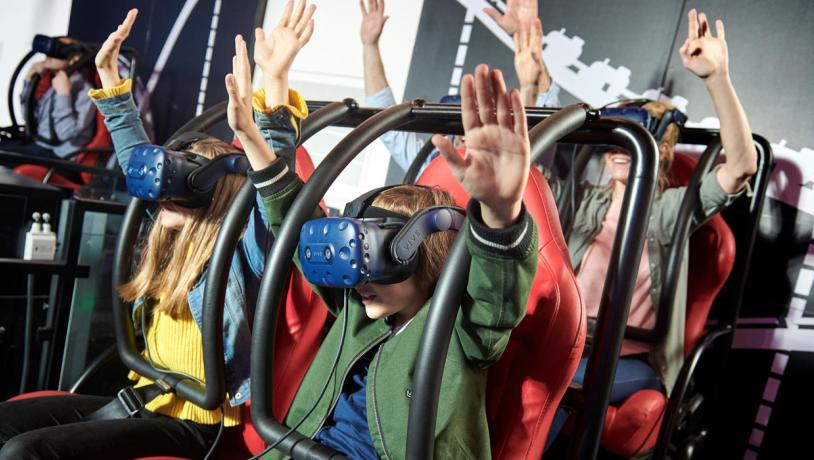 Photo: Universe Science Park
Other activities
You can also test your abilities within a range of fields such as memory and motor skills. With regard to the latter, the Segway course is particularly popular.
You can learn a great deal about the world of technology at Universe. Science becomes a game through fun experiments, in addition to which you have the chance to build things yourself.
Although the majority of the park's activities are action-packed, there are also quieter sections, thus making Universe an ideal destination for a day trip for adults and children alike.
Much more Sønderjylland...