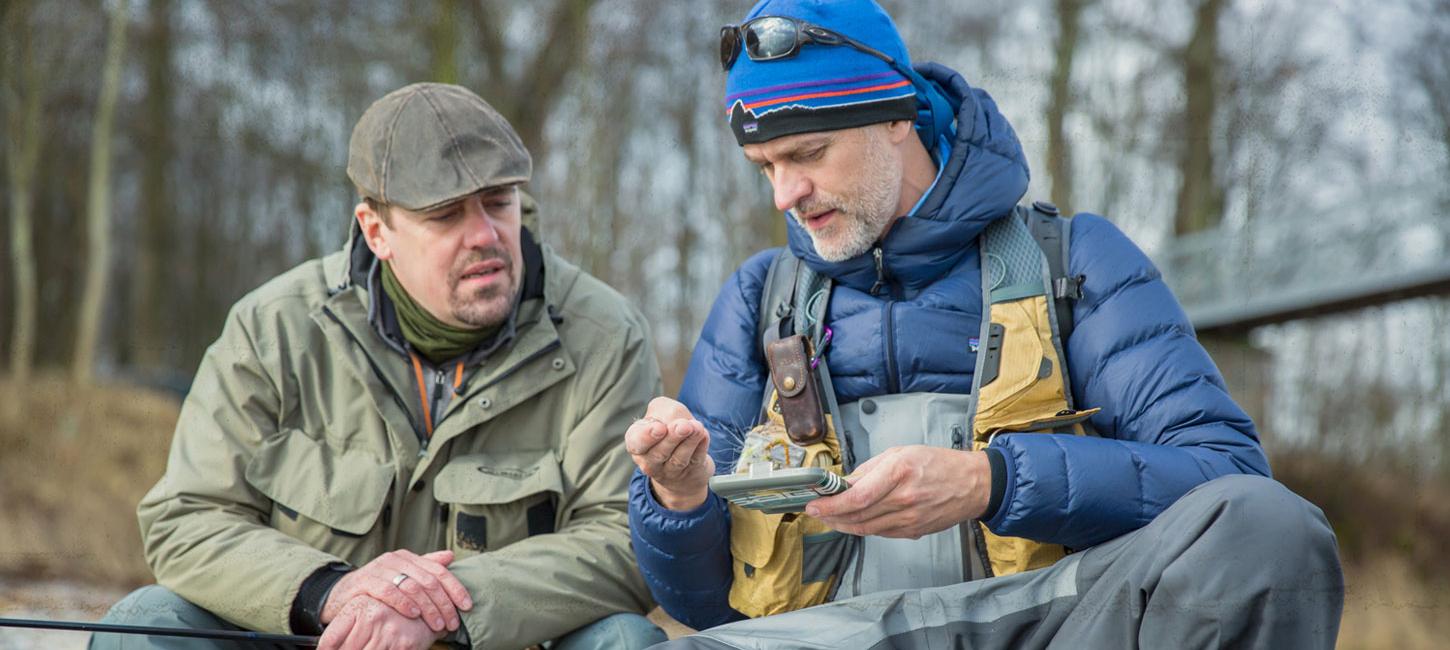 Angling in Sønderjylland
Photo:
Destination Sønderjylland
In Sønderjylland you're never far away from a great fishing adventure. The east coast of the region provides exciting and diverse fishing regardless of the weather. Here, you can catch large sea trout, grey mullet, flatfish, garfish and cod.
The deep lakes enable you to fish for pike, zander, carp and perch, whilst in the region's network of streams and becks large salmon, river trout, grayling, pike and perch all flourish. In addition to the many lakes and watercourses, there are a large number of private put & take lakes. The lakes make it easy for novices to begin fishing. You purchase your fishing pass at the lakes, and in this case you don't need a national fishing licence.
Good fishing spots in Sønderjylland
Regardless of whether you prefer fishing on the coast, in a stream or at a Put & Take lake, you'll find a wealth of possibilities in Sønderjylland. Take a look through each of the categories below and find inspiration for your next fishing trip in Sønderjylland.
If you have problems with any of your equipment or you've left something behind at home, you can always find what you need at a number of shops selling fishing tackle and other fishing gear.
As a rule, all anglers from the ages of 18 to and including 66 must hold a national fishing licence. In freshwater lakes and streams the owner of the fishing waters must also grant permission to fish, even if you've purchased a fishing licence. Fishing parks do not require a national fishing licence, however. You can buy a fishing licence at www.fisketegn.dk Many campsites, tourist offices and fishing tackle retailers also sell fishing licences. If you're caught fishing without a valid licence, you'll be subject to a fine.
Overnight accommodation
In Sønderjylland you'll find a considerable number of places to stay overnight that are perfect for anglers. You can, for example, choose a holiday home close to the coast, or a hotel in the town from where you can combine fishing trips with any attractions in the town.
The angler-friendly places we recommend provide the option of secure storage of your fishing gear, as well as drying facilities for waders, etc.
Beaches are in the public domain. Neither individuals nor clubs can therefore commandeer a beach or large stretches of a beach. Always exercise consideration for other anglers and keep your distance. Take care of the countryside and do not leave behind rubbish, discarded fishing lines and hooks, as this may harm the wildlife. Always respect applicable regulations concerning minimum size limits and conservation periods. Fish that have been caught which are protected by conservation regulations or are undersized MUST be set out again immediately, regardless of whether they are alive, injured or dead.
For a large number of species of fish, a minimum size limit and/or conservation period is enforced where the fish gather in order to spawn. The aim of this is to ensure that the fish are able to spawn and thereby maintain their population. 
Furthermore, there are special local rules for fishing and conservation belts in the Wadden Sea, Aabenraa Fjord, Flensburg Fjord, the waters surrounding Als and certain watercourses in Sønderjylland. You can remain up to date at havørred.com
Much more Sønderjylland...
VisitSønderjylland © 2023