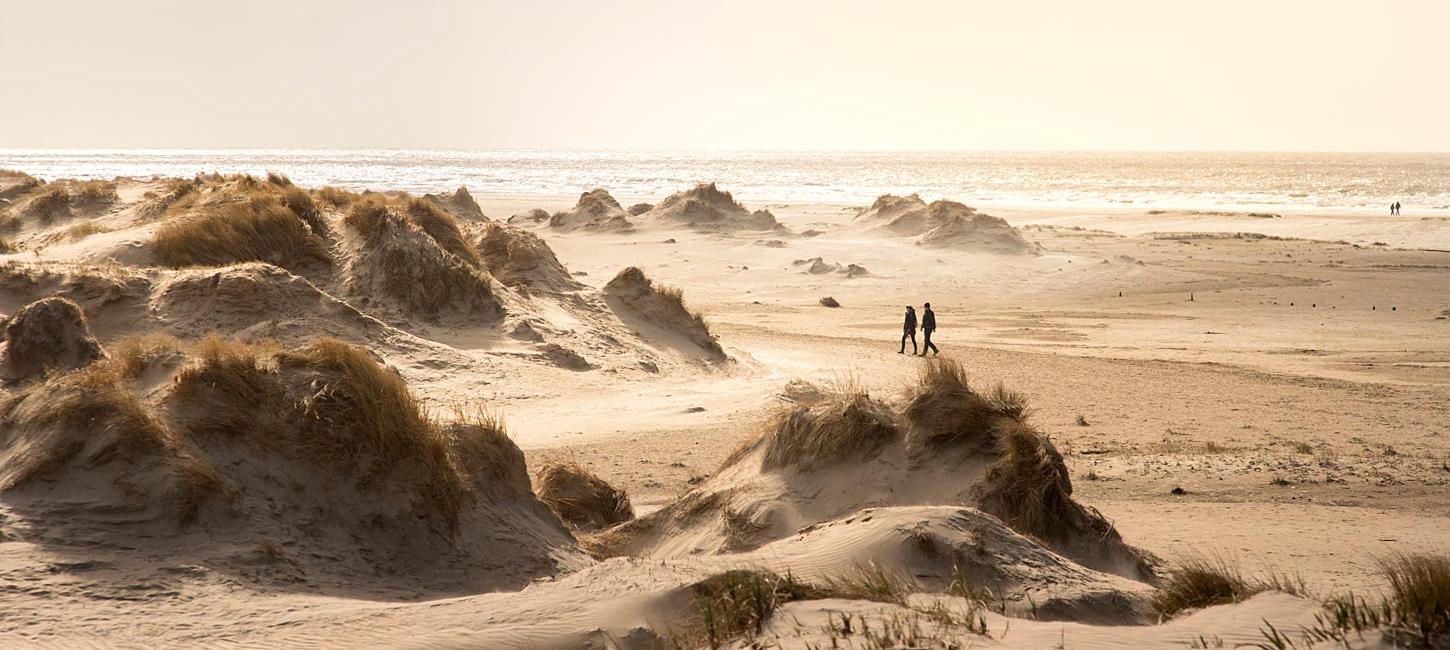 Rømø
Rømø is the most southerly of the Danish Wadden Sea islands. On Rømø you'll find everything the heart may desire in terms of activities and natural attractions, regardless of whether you visit during the summer months or at any other time of year. 
Holiday on Denmark's largest Wadden Sea island
The Wadden Sea National Park, on the Danish west coast, encompasses the Wadden Sea islands of Rømø, Fanø and Mandø. All the islands have an authentic island environment with dune plantations, heaths and miles of lovely sandy beaches. The islands form the boundary between the North Sea and the Wadden Sea, which is an invaluable source of food for millions of birds and where the invasive Pacific oysters can be picked from the seabed. Rømø is the largest of the Danish Wadden Sea islands and lies nearly 10 kilometres off the coast of Sønderjylland. It can be reached via the Rømø causeway. 
The beaches on Rømø
On Rømø you find some of northern Europe's best and broadest sandy beaches – Lakolk and Sønderstrand. If you wish to go swimming and relax on the beach, then Lakolk represents the ideal choice. If, on the other hand, you love action and activities on the beach, then head for Sønderstrand. Or perhaps you're just like most of us – and appreciate relaxation one day and activities the next.
Things to do
When on Rømø, there's no excuse for getting bored, with plenty of activities for the entire family. Go on a seal safari or oyster safari, find amber on the beach, or drive a blo-kart on one of the broadest beaches in the world. You can find all the best adventures and activities here.
World-class nature
The Wadden Sea National Park – a UNESCO world heritage site – stretches all the way from Blåvandshuk near Esbjerg in the north to the Dutch town of Den Helder in the south. It's the world's largest continuous tidal area, featuring sandflats and mudflats that dry out at low tide. Here you find tidal canals, mudflats, salt marshes, dunes and a large number of Wadden Sea islands that make up the boundary between the Wadden Sea and the North Sea. The Wadden Sea is situated between the mainland and Rømø, and at low tide you can walk out onto the seabed and look for oysters. The west coast of the island has broad, sandy beaches, the North Sea, towering dunes and plantations with elevations and bunkers. The island's unique and varied nature can be experienced in many different ways. Rent a bike or lace up your hiking boots and explore the island's paths and roads through the dunes and over the heaths, go hunting for amber on the beach or rent a horse and see the island from the saddle.
Accommodation and places to eat
Highlights in the vicinity of Rømø
The campaign is funded in part by Danmarks Erhvervsfremmebestyrelse

VisitSønderjylland © 2023