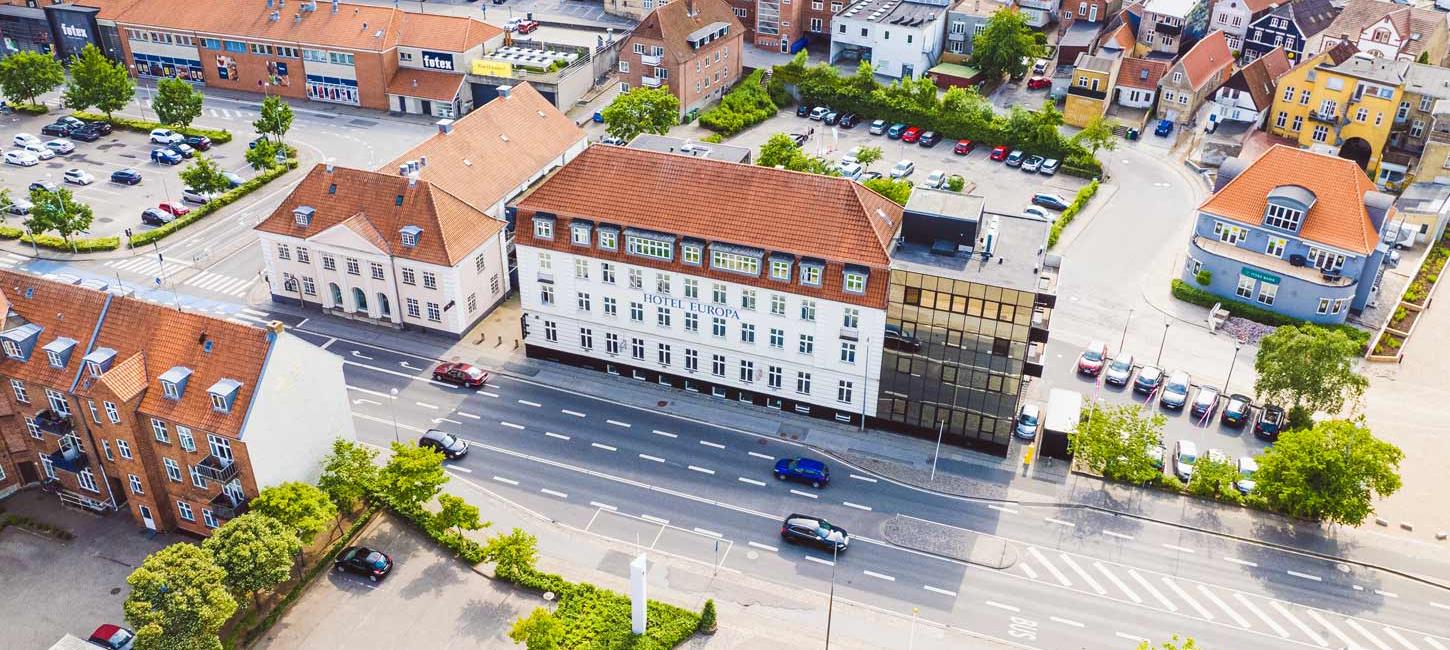 Hotel Europa
Hotel Europa is situated in the middle of the town of Aabenraa, close to the pedestrian precinct, marina and beach.
Book your dinner and accommodation
All our rooms are modern and tastefully decorated with own bathroom, toilet, hairdryer, iron and ironing board, flatscreen, cable TV, free wireless internet, coffeemaker and minibar. In addition, there are air coolers in all rooms.
 
Regardless of whether you choose to stay for 1, 2 or more nights, we really want you to come back one day. As a result, everyone you meet will be friendly, helpful and welcoming and we'll do our utmost to make sure you feel that you're treated well and have a really good experience – and hopefully will want to return in the future. If you arrive in a Tesla or hybrid vehicle, we have four EV charging stations.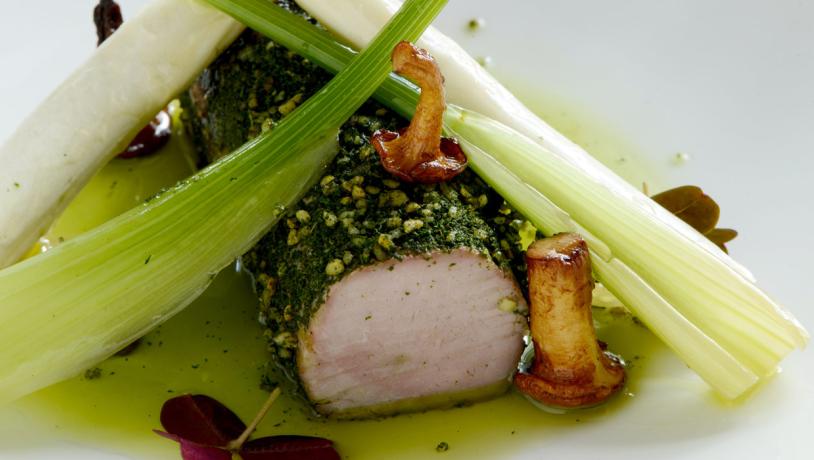 Photo: Hotel Europa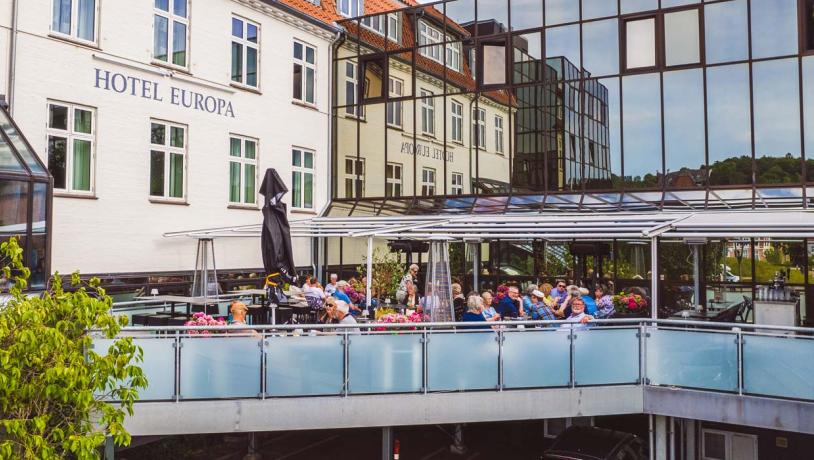 Photo: Hotel Europa
Hotel Europa has 2 restaurants and a large, covered terrace. Both restaurants provide a culinary experience in their own particular way. During the summer months, the terrace is open, and you can enjoy a cold glass of wine, a delicious meal, or a satisfying draught beer.
No10:
At Restaurant No10 we have delicious dishes that are based on the ingredients of the season and modern methods of preparation. Our restaurant is spacious, yet at the same time manages to maintain an intimate and cosy atmosphere. The menu changes on a regular basis and has up to 5 different dishes at any one time. You can also choose from our à la carte menu. Our skilled waiters can help you put together a wine menu that perfectly complements your evening meal.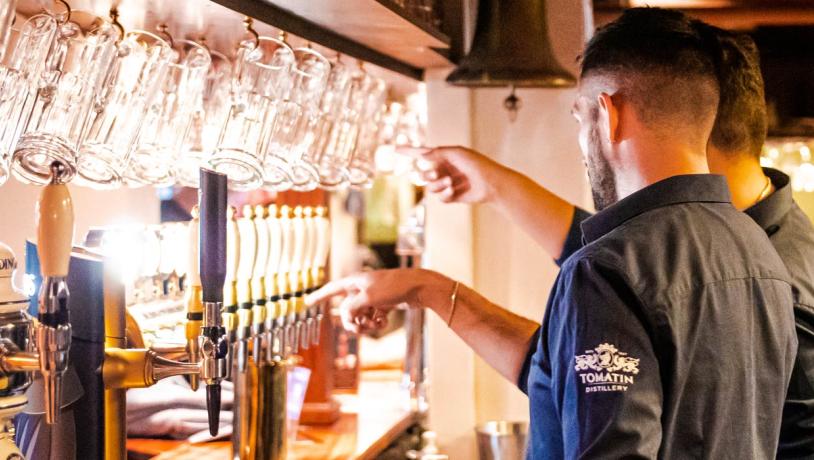 Photo: Fox and Hounds, Sønderborg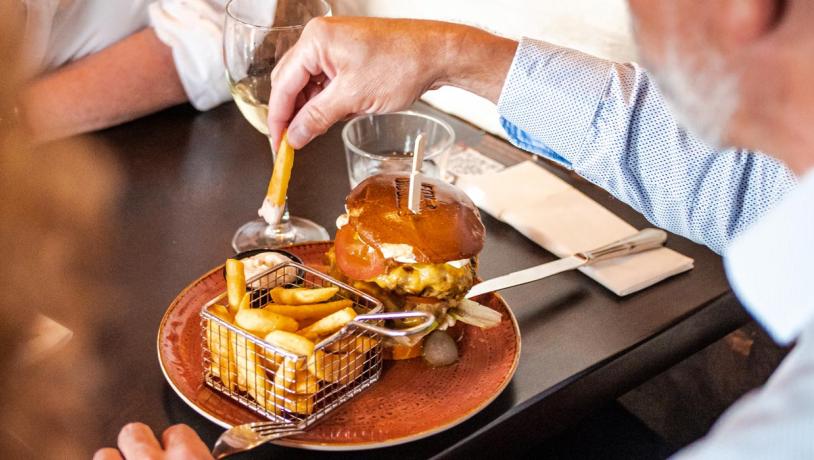 Photo: Fox and Hounds, Sønderborg
Fox And Hounds Aabenraa and Sønderborg:
Fox and Hounds Scottish Pubs were founded in Holstebro in 1991 by Scot Simon Martin. Since that time, 2 pubs have appeared in Herning and Aabenraa, whilst a fourth saw the light of day in Sønderborg in October 2015. Each pub is run independently and has its own distinctive character. However, they all share the same concept: to sell exciting, good-quality beer and whisky to an older customer segment, thereby promoting the beer and whisky culture in Denmark. This requires stock of the very highest quality and a varied and specially selected range. We have a passion for beer, and this is reflected in our wide range: 22 different draught beers and more than 80 different bottled beers – all carefully selected to ensure the satisfaction of our guests.
Our menu reflects the fact that we want our guests to thoroughly enjoy their evening. This can be done with our Full House menu, which is 'Sharing is caring' food. You can also enjoy a flammkuchen, fresh cod as Fish 'n' Chips or a delicious, juicy burger. On the menu, you also find traditional Scottish dishes such as cottage pie and lamb stew.
There's live music at weekends, as well as a delightful terrace in front of the pub where you can sit outside during the summer months.
Fox and Hounds was originally a family-owned business, as symbolised by our logo, which depicts a dog and a fox enjoying each other's company in front of the open fireplace in Holstebro.
Fox and Hounds Aabenraa and Sønderborg are owned by Helle, Alex and Lasse, who still works at both venues.
Much more Sønderjylland...