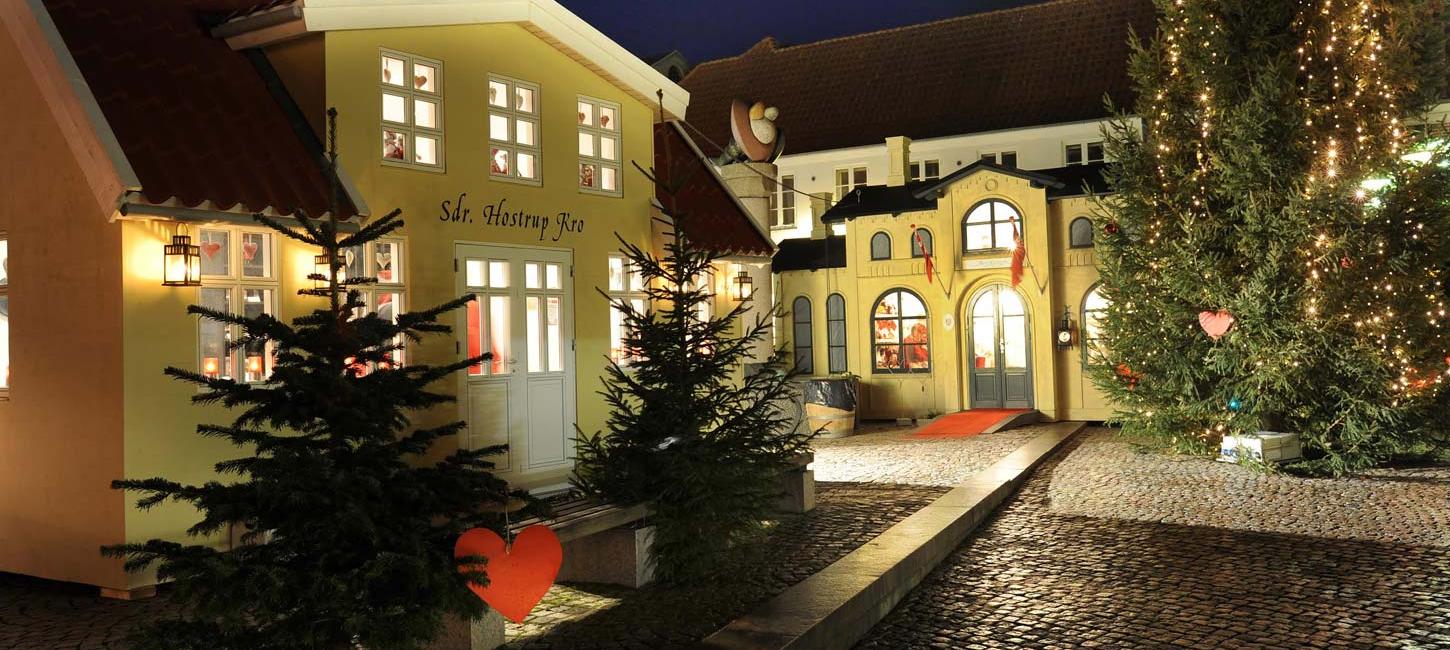 Åbningstider i Julehjertebyen
Julehjertebyen åbner den sidste weekend i november til 23. december. Hverdage kl. 14.00-17.00 Weekend: kl. 11.00-16.00
Xmas hearts for everyone
Several initiatives in Aabenraa ensure that there's extra warm-heartedness available to anyone that might need it at Christmas.
Unfortunately there is no "Town of Christmas hearts" in 2022.
Christmas is known as the "festival of hearts", and in Aabenraa this concept has an extra dimension. Here, several voluntary initiatives make sure that Christmas carries with it a little extra warm-heartedness for those that need it most.
In the middle of Aabenraa you'll find a so-called "town of Christmas hearts" during the month of Christmas. It was started in 2009 on the initiative of Malene Bruhn, who's also on the board of charity association "A heart for everyone". In 2018 the town of Christmas hearts celebrated its 10th anniversary.
The idea of the town of Christmas hearts was to create a place in Aabenraa in which people can experience Christmas in a historic setting as it was in the year 1850. The town of Christmas hearts consists of wooden houses that are replicas of a number of the town's old buildings such as the town hall, the church, the inn Sdr. Hostrup Kro, the church of Sct. Jørgens Kirke, the Folkehjemmet meeting house and the railway station.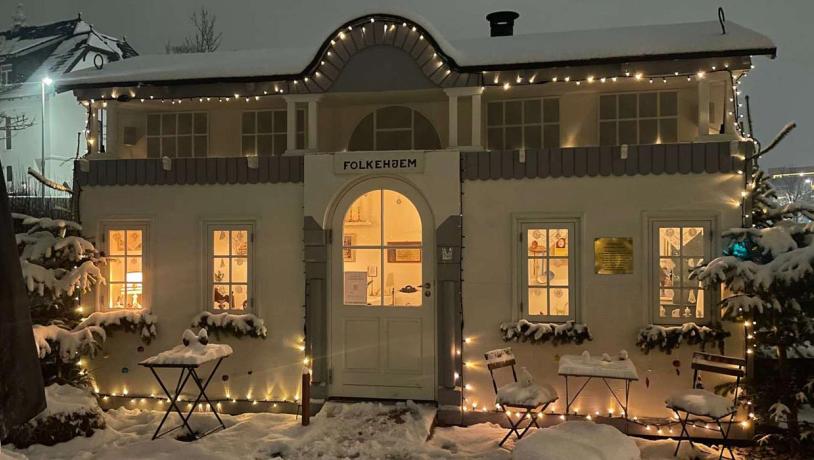 Photo: Julehjertebyen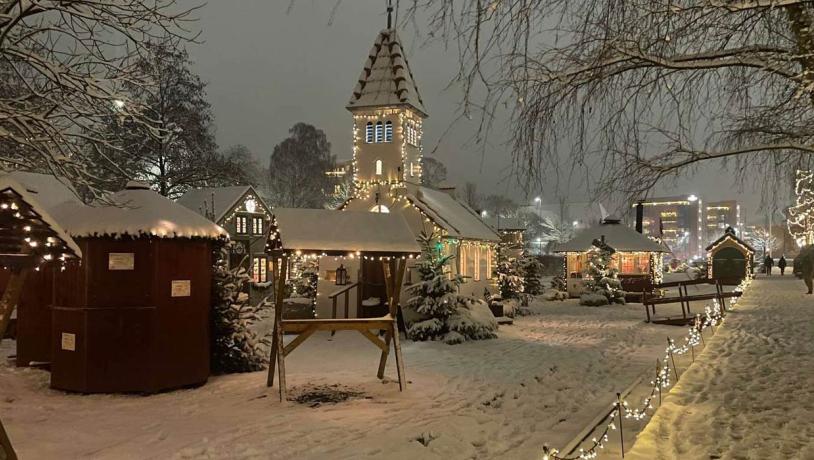 Photo: Julehjertebyen
The town of Christmas hearts is located by the old railway station at Jernbanegade 2. Traditional Danish Christmas fare such as doughnuts and rice pudding are made on old-fashioned wood-burning stoves and given out free of charge in order to warm the hearts of visitors.
All the ingredients are donated by the town's business community, and the activities are run by several hundred unpaid volunteers.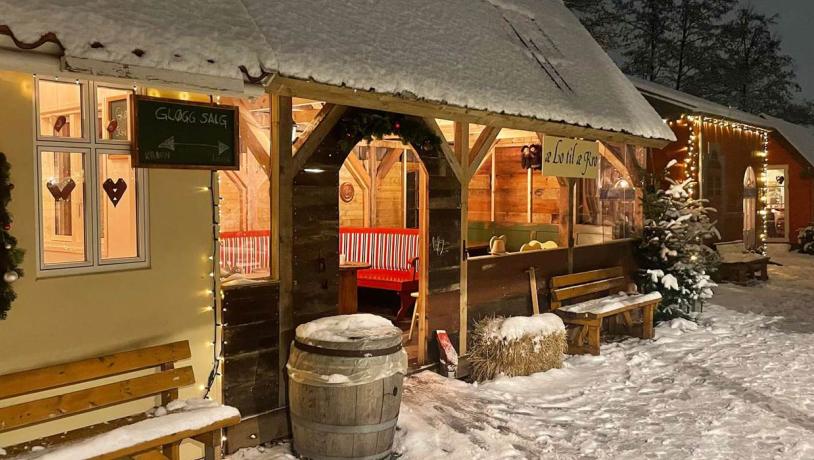 Photo: Julehjertebyen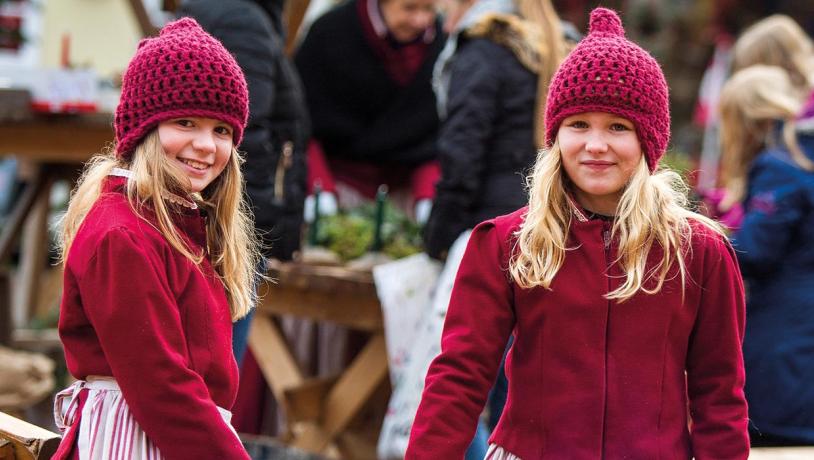 Photo: Julehjertebyen
The town of Christmas hearts has a number of ceramic hearts that act as collecting boxes in which you can make a contribution to a good cause. The money collected is distributed via "A heart for everyone". Malene Bruhn is proud of the happiness that the town of Christmas hearts creates in Aabenraa, and her hope is that the project will one day be copied in other parts of the world. 
I Julehjertebyen er der opsat små keramiske sparehjerter. Hjerterne fungerer som indsamlingsbøsser, hvor besøgende kan give et bidrag til en god sag. Bidragene fra Julehjertebyen går til foreningen "Et hjerte for alle", som udbetaler julehjælp til trængte borgere i Aabenraa Kommune.
For 2023 ser programmet for Julehjertebyen ud som følger:
Lørdag den 25.11.2023:
Kl. 11.00 Tinglev Sogn/børnekor
Kl. 11.30 Åbningstale v. borgmester jan Riber Jacobsen, hvor årets Julehjertesmykke offentliggøres
Kl. 11.45 Musicalen "Jutlandia" v. Ensig Børnehave
Kl. 13.00 Rebbøl Svingband
Søndag den 26.11.2023:
Kl. 11.00 Kirsebærhavens husorkester spiller julemusik
Kl. 13.00 Aabenraa Shantykoret
Onsdag den 29.11.2023:
Kl. 15.30 Julesange

Lørdag den 02.12.2023:
Kl. 11.00 Nr. Hostrup Folkedansere
Kl. 13.00 Klods Hans v. Bovlund Teaterforening
Kl. 14.00 Tina Fabricius og Co.
Søndag den 03.12.2023:
Kl. 11.00 Bahjat Tatar spiller på buzuq, kurdisk
Kl. 12.00 Aabenraa Brass Band
Kl. 13.00 Stjernetrioen
Lørdag den 09.12.2023:
Kl. 11.00 Pusterummet/Lungekoret
Kl. 13.00 Musikskolen
Søndag den 10.12.2023:
Kl. 11.00 Karl Folk
Kl. 13.00 Maja Wue
Mandag den 11.12.2023:
Kl. 14.00 Senioreftermiddag - De Fie Knejte fra Nr. Hostrup
Onsdag den 13.12.2023:
Kl. 16.00 Luciaoptog

Lørdag den 16.12.2023:
Kl. 11.00 Aabenraa Pipe & Drums
Kl. 13.00 Sct. Jørgens pigekor/Høje Kolstrup Børnekor
Kl. 12.00-14.00 Orienteringsløb

Søndag den 17.12.2023
Kl. 11.00 Ukrainsk kor
Kl. 13.00 Fyraftenskoret
Mandag den 18.12.2023
Kl. 16.30 Den Sønderjyske Garde

Onsdag den 20.12.2023
Kl. 16.00 Gospel / OAKS

Fredag den 22.12.2023
Kl. 16.00 Julegudstjeneste v/ Eva Wiewe Løbner

Lørdag den 23.12.2023
Kl. 11.00 Julesange
 
NB: Programændringer kan forekomme. 
Much more Sønderjylland...
VisitSønderjylland © 2023