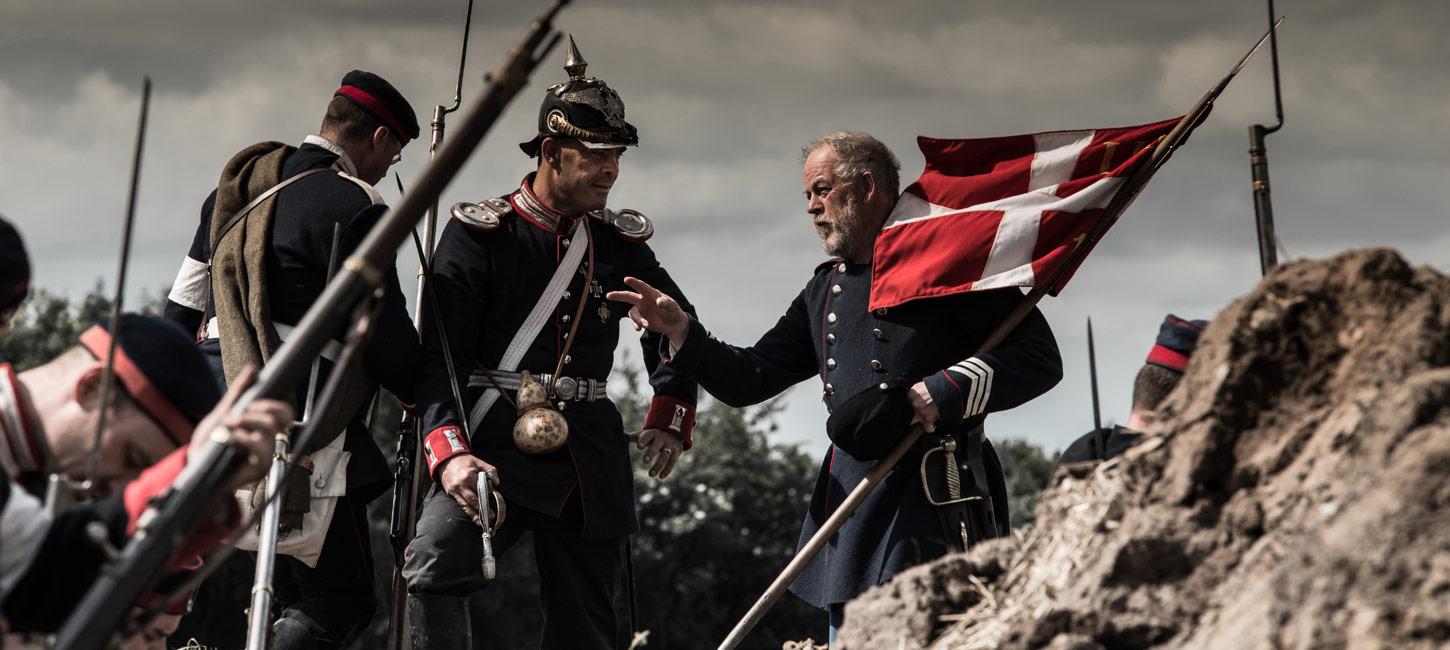 The Battle of Als
Photo:
Jonas Fægteborg Førstø
The conflict between the German Confederation and the so-called unitary state of Denmark concerning the affiliation of the Duchies of Schleswig and Holstein reached a critical stage towards the end of 1863.
On behalf of the German Confederation, Prussia and Austria commenced hostilities against Denmark on 1st February 1864. The Danes tried to mount a defence of the original Viking fortifications at Danevirke, but were forced to cede and made a retreat to Dybbøl and Fredericia, where defence against a superior enemy was easier. The war then developed primarily into a war of position between the Danish and Prussian forces at Dybbøl.
On 18th April the Prussians seized the Dybbøl position. In spite of heavy losses the Danes retreated to the island of Als, which they initially managed to hold. A truce and subsequent negotiations failed to result in a resolution of the conflict, however.
On 26th June the truce expired, and at 2 a.m. (3 a.m. Danish Summer Time) on 29th June the first wave of 163 boats containing some 2,500 Prussian soldiers sailed across the strait of Alssund at Sottrupskov. The Danish forces on Kær Halvø peninsula engaged the enemy, but the defence of Als was too weak and poorly organised.
At 2.45 a.m. the Danish turret ironclad warship, Rolf Krake, appeared and briefly halted the progress of the Prussian forces. At this time, however, there were already around 5,000 Prussian soldiers on Als, with the Danish forces under heavy pressure.
The Captain of Rolf Krake deemed the battle to be lost. The ironclad warship thus retreated, before later taking part in the evacuation of the Danish forces from Als.
The Danish defence unravelled during the morning under pressure from the Prussian troops, and at 5.30 a.m. the Danes abandoned the defence of Als and began a fighting retreat to Kegnæs peninsula. From here, the troops were evacuated during the next few days, and on 1st July the last Danish soldier left Kegnæs, which was the Danes' last strongpoint on the island.
The Danish army's total losses (dead, wounded and captured) amounted to 3,148 men. Of these, 597 were wounded and at least 232 killed. The corresponding Prussian losses were just 372 men.
The Battle of Als was the decisive battle in the Second Schleswig War in 1864, which had now lasted for 5 months. The loss of Als caused panic and despair in Denmark, and the Danes sought a truce. At the subsequent peace negotiations in Vienna, Denmark was forced to sign the peace treaty unconditionally, which meant the dissolution of the unitary state of Denmark, with Denmark being forced to cede Schleswig, Holstein and Lauenburg.
Much more Sønderjylland...