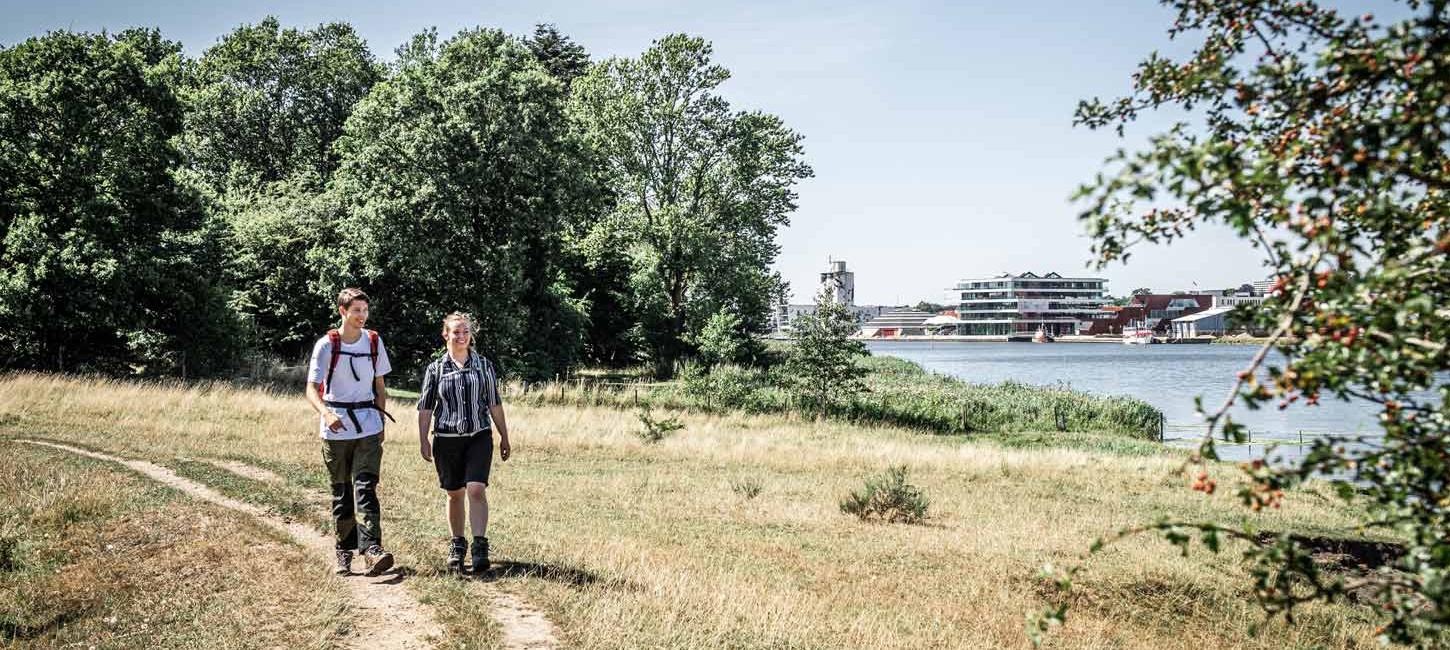 Hiking in Sønderjylland
More than 1000 km of marked routes distributed between more than 150 paths and tracks lead you through the flat marsh landscape in the west and the fjord landscape with its deep tunnel valleys and rolling hills in the east.
Hiking is a fantastic activity to enjoy when on holiday. The pace of life slows right down, and you have the chance to walk and enjoy beautiful sights at the same time. You're guaranteed a great experience that you won't forget in a hurry. Primitive tracks and gently rolling hills help you leave behind the hustle and bustle of everyday life.
The hiking routes in Sønderjylland boast a richness of flora and fauna and follow the long coastlines with steep cliffs, shady forests, flat marsh landscape and attractive beaches. You can be sure of countless opportunities to explore the idyllic landscape on foot.
Long-distance routes
Immerse yourself in the five longer hiking routes on the following pages. All five routes take you through Sønderjylland's attractive countryside. Four of the paths run close to the coast at various points, thus enabling you to enjoy beaches, meadows and other attractions close to the water.
Several of the paths also take in Sønderjylland's unique history. On Gendarmstien, which follows the route of the former border patrols, you pass through some of the entrenchments at Dybbøl, where a major battle was fought in 1864, whilst Camino Haderslev Næs takes you close to some of the remnants of Defence Line North, which Germany constructed in the period 1916-1918 in a bid to provide a defensive line to the north. 
Both Gendarmstien and Marskstien – the Marsh Trail – are certified "Leading Quality Trails" by the European Ramblers Association. This is your guarantee of a high standard of signposting and facilities along the route. Certification also indicates that on these paths you can be sure that you'll experience unique areas of natural beauty.
Book hiking packages online...
On Gendarmstien and Marskstien several places of overnight accommodation have put together hiking packages for those that wish to enjoy plenty of hours of walking, but at the same time want to be sure of a good bed in which to sleep at night. All these packages include bed and breakfast. At most of the places at which you stay, a packed lunch is also included, as well as an evening meal if there isn't anywhere to eat in the immediate vicinity.
The hiking packages on Gendarmstien also include baggage transport – as well as personal transport where necessary. On Marskstien you can purchase baggage transport as an optional extra.
The packages and holidays that are currently available can be found below. New packages – also on other routes – are continuously being developed; so be sure to visit the site at a later date if you can't find the package that matches your wishes.
Short hiking routes
If long hikes lasting several days are not your thing, then you can easily find shorter routes in Sønderjylland. Through the forests, around the lakes, along the fjords, at the Wadden Sea and in many other places, you find shorter, marked routes. 
The campaign is funded in part by Danmarks Erhvervsfremmebestyrelse

VisitSønderjylland © 2023