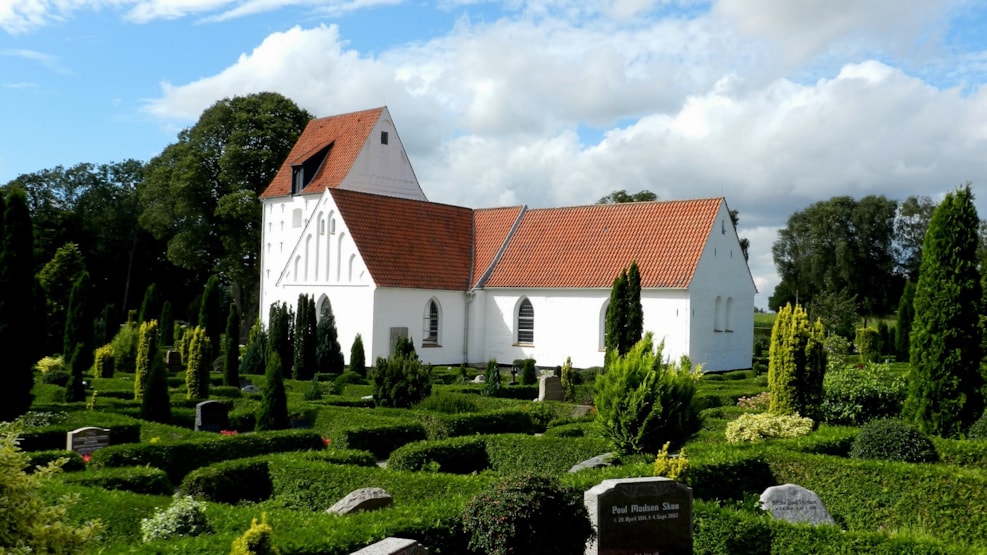 Vedsted Church
Originally, Vedsted was only the site of the church - the village Vedsted came later. The church is a mideaval church from the 1100s, which, like most churches from this time, has been remodelled several times. Here, you will find a lovely view of Vedsted Lake.
Inside the church you can see a beautiful three-winged alterpiece with the crowned, radiant Madonna framed in a circle of roses. She carries the naked baby Jesus in her arms. The left wing depicts the holy Saint Christopher with Jesus on his shoulders, and the right wing depicts the archangel Michael fighting the dragon.
If you exit the church through the south door, you can catch a glimpse of the rectory across Vedsted Lake. At the cemetery there is a memorial from 1921 of the 65 young men from the villages in the parish, who were killed during the First World War in German service. The memorial is made of granite and includes a relief of the Angel of Peace, made by Niels Skovgaard.
Vedsted lies right by the Ancient Road, and a visit to the church with the stunning surrounding nature is a given. You can also go for a dip in Vedsted Lake, which is one of the only lakes suitable for bathing.
The church is open during the daytime from 8am to 6pm.
VisitSønderjylland © 2023