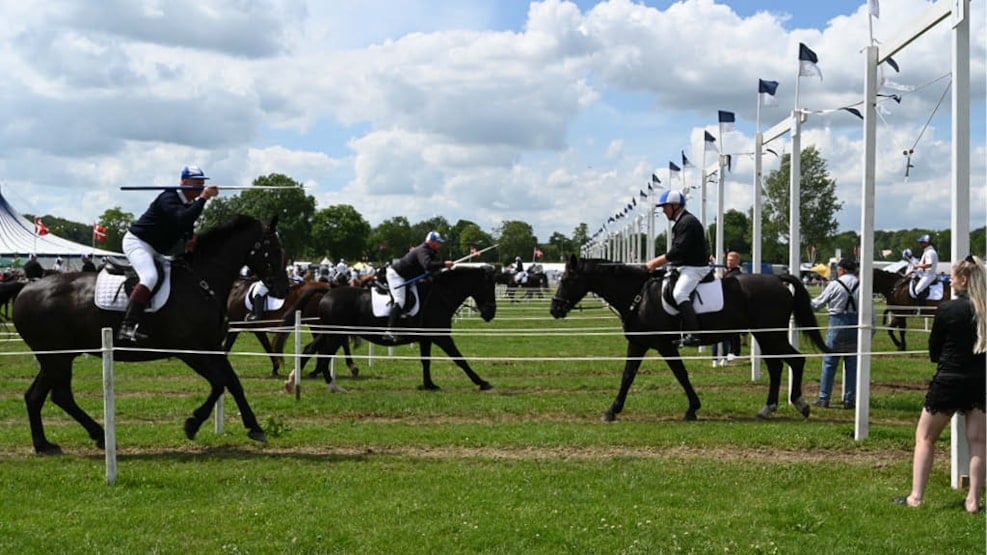 Tilting at the ring festival in Aabenraa
Tilting at the ring festival in Aabenraa - a proud tradition and a city celebration beyond the ordinary.
Experience the traditional tilting festival in Aabenraa, which takes place every first weekend of July.
In 2022, 227 riders participated in the competition for the honorable title of the King of Aabenraa tilting. In terms of the number of participants, Aabenraa ranks as one of Denmark's largest tilting events, alongside the one in Sønderborg.
Enjoy four days of festivities, entertainment, and music for all ages.
Tilting is a tradition dating back to the era of knightly tournaments, with its final form evolving during the time of the Crusades. However, the grand county tilting festivals only began in the 1890s, and in 2023, Aabenraa Tilting Festival was held for the 126th time.
The festival grounds open on Friday at 6:00 PM with a large amusement park, a raffle, and the Gourmet Boulevard. Here, you'll find delicious food, wine, and drinks prepared and served by local restaurants, while there is live music in the tents in the evening.
On Saturday morning, the riders traditionally assemble at the Market Square in the heart of Aabenraa. Accompanied by several music corps, the riders parade through the city on beautifully decorated horses to the festival grounds. The Saturday program at the festival usually includes everything from flea and antique markets to live music in the festival tent in the evening. During the daytime, in addition to the amusement park, there's a children's area and a bouncy castle for the little ones.
On Sunday, the festival grounds open again at 10:00 AM, while the riders gather for a parade through Aabenraa at 11:30 AM. This year's Sunday program includes activities such as tractor tilting and later the Mayor's Challenge – a competition between Aabenraa and Sønderborg, before the equestrian competition culminates in the annual King's Parade at the Galgenberg at 4:00 PM. Throughout the day and evening, there will be music performances by the participating music corps.
On Monday, a tilting rider's lunch is held, marking the end of the Aabenraa Tilting Festival, while the festival grounds remain open with an amusement park, flea and antique market, and music in the tents.
Apart from Monday's tilting rider's lunch, entry to the beer tents' concerts is free once you have paid the entrance fee to the festival grounds.
Children aged 0-12 have free admission to the festival grounds.
In 2024, the Tilting Festival will take place from July 5th to 8th. The exact program has not been announced yet.
VisitSønderjylland © 2023