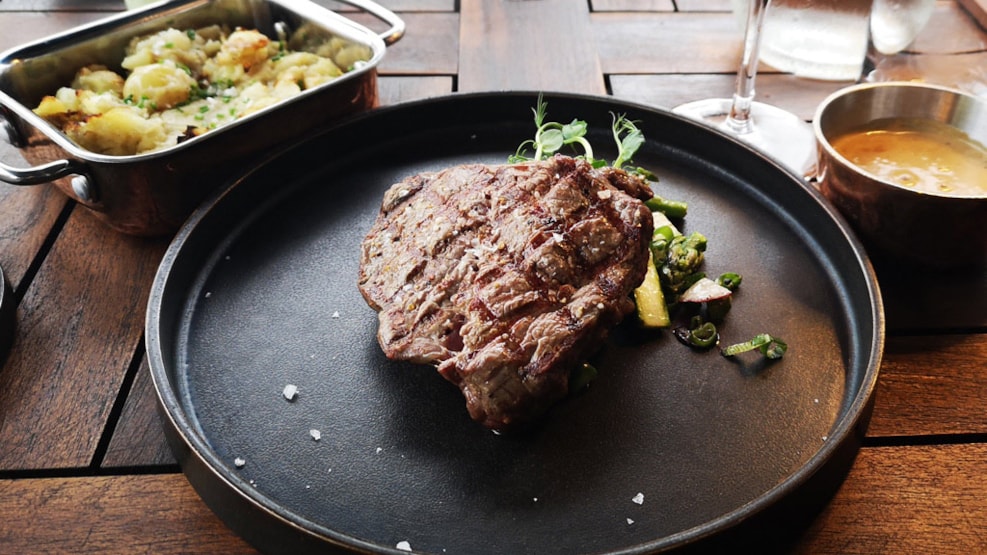 SteakeRiet
Restaurant SteakeRiet is a charming restaurant in Vejle with a cosy veranda and great atmosphere.
A cosy eatery, SteakeRiet is located on the corner of Dæmningen and Vissingsgade – a modern steakhouse with an authentic and personal style where you can simply sit back and enjoy a wonderful evening.
The menu is simple and straightforward with a focus on prime meats and seasonal ingredients. In addition to their regular à la carte menu, the restaurant also offers a three-course fixed menu, which changes 4-6 times a year according to the season.
The menu selection of starters and desserts are also based on available seasonal produce. They are the restaurant's own interpretations of great classics; dishes that evoke a sense of nostalgia and fond memories, all with added flavour and refinement.
Restaurant SteakeRiet serves prime beef, primarily of Hereford and Black Angus cattle from Australia and New Zealand – free-range cattle that have roamed the pastures and enjoyed their lives. The tenderloin of lamb, a menu favourite, is also sourced from New Zealand. Currently, the fish served is sustainable salmon from the Faroe Islands where the quality and ethics meet the requirement of the restaurant.
A fine steak usually calls for an equally fine glass of wine, and SteakeRiet offers an enjoyable and wide selection of wines hand-picked in close association with their skilled members of staff and not least their wine suppliers over many years. Naturally, the wine card also includes classics well-suited to steaks, but their philosophy is one of daring to experiment, allowing you to enjoy the reward of a glass of luscious wine, often accompanied by an anecdote about its backstory.
SteakeRiet enjoys a local reputation of being one of the better culinary experiences in Vejle and the Triangle Area, a restaurant where you go for a treat and to spend an enjoyable evening with your sweetheart, good friends or family.
VisitSønderjylland © 2023