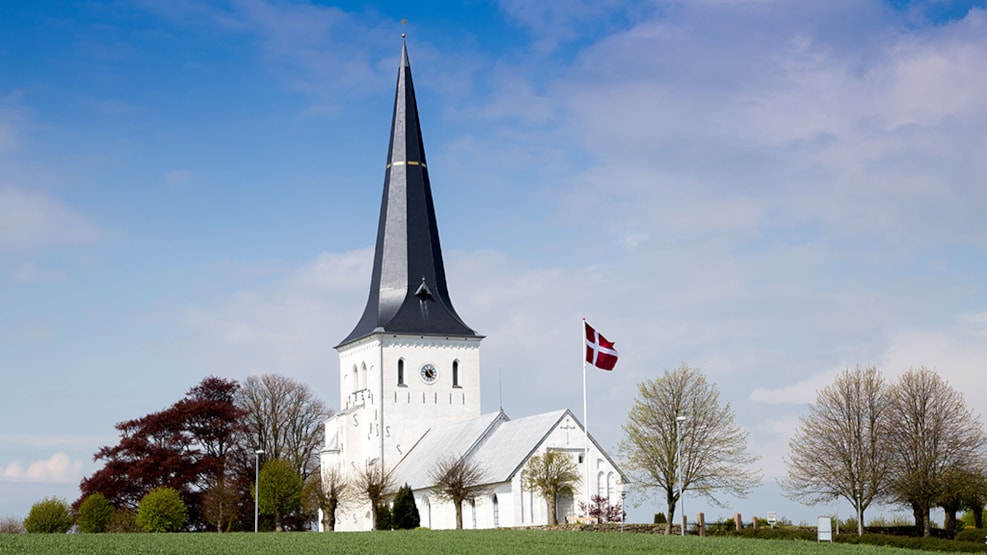 Sottrup Kirke
Sottrup Church was built in the 13th century and today has a tall, Gothic tower with numerous wall anchors and strong pillars, which was added in 1650. The original church tower had to be replaced by a free-standing bell house in 1666, as the tower's construction was too weak and it had become indefensible to ring the big bell.
After the construction of a new tower in the early 1860s, the bell house was sold for demolition in 1863. In addition to the old bell from 1656 (recast in 1829), the church has a reunion bell as a replacement for the bell that was confiscated and recast for war material under 1. World War. The organ from 1844 had to have new facade pipes after World War I, since the original tin pipes also were confiscated.
On April 2, 1864, all the residents of the parish were called to a special "service" by the Prussian army, here they were placed under guard to prevent them from warning the Danes of a planned transition to Als, using pontoon bridges and boats between Ballebro and Hardeshøj - bad weather, however, prevented implementation.
During a complete renovation of the tower and spire in 2006, the Gold Ring is rediscovered in the old roof construction and has it re-inserted - this makes it look as if the upper part is floating from a distance.
The memorial grove in the western part of the cemetery has memorials for both Danish and Prussian soldiers. A stone set for 27 Danish soldiers fallen in the 1st Schleswig War on April 6, 1849 and a stone set for 4 Prussian soldiers who fell on the same day or year. Iron cross set for Prussian soldiers fallen during the transition to Als on June 29, 1864 as well as cross set for Prussian soldiers who died during the battle of Als or subsequently of their injuries. Memorial stone for 48 young men from Sottrup Parish who fell during World War I and stone for a border gendarme who died in a concentration camp during World War II.
The church does not have fixed opening hours, but if there are employees at work in the cemetery, they can help with opening.
VisitSønderjylland © 2023