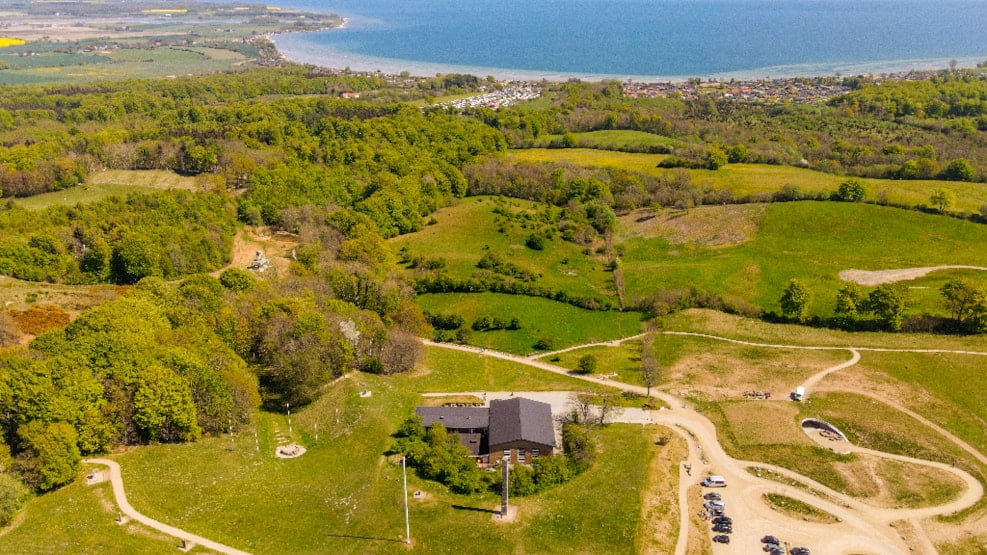 Skamlingsbanken - Beautiful unique nature in Kolding
Skamlingsbanken is one of Denmark's natural gems – here there are walks, views, history and coffee.
With its 113 meters above sea level, Skamlingsbanken has a beautiful view, Skamlingsbanken is the highest point in Southern and Southern Jutland.

Skamlingsbanken forms a beautiful natural area, from which there is a magnificent view over the entire area between Kolding and Christiansfeld. There is a view over the Little Belt to Funen and to the west far into Southern Jutland. The landscape appears lush with fields, beech forests, live fences along roads and field divides.
In the area, there are plenty of opportunities for walks that go through the beautiful landscape - for example, take the trip all the way down to Binderup and Grønninghoved Strand and back again. A brisk trot of around five kilometres.

Skamlingsbanken is known for the folk festivals that were held in the years 1843-59 in support of the Danish cause in Southern Jutland.
At Højskamlingen stands a 16 meter high support made of 25 granite blocks in memory of the champions of the Danish cause in Schleswig. The buttress was erected in 1863, blown up by the Prussians in 1864 and erected again in 1866. The re-erection was possible because people in the area had collected and hidden the stones. Near the support are six other memorial supports and a pulpit of large boulders. Around the podium are five groups of trees, symbolizing the inseparability of the five Nordic countries. The trees are: beech (Denmark), birch (Sweden), spruce (Norway), pine (Finland) and rowan (Iceland).
After the liberation in 1945, a memorial grove was set up for the fallen from the South Jutland resistance movement.

Today, Skamlingsbanken is a popular excursion destination. At Skamlingsbanken there is accommodation and parking, a visitor center with a cafe that provides information about Skamlingsbanken's history and a restaurant.
VisitSønderjylland © 2023