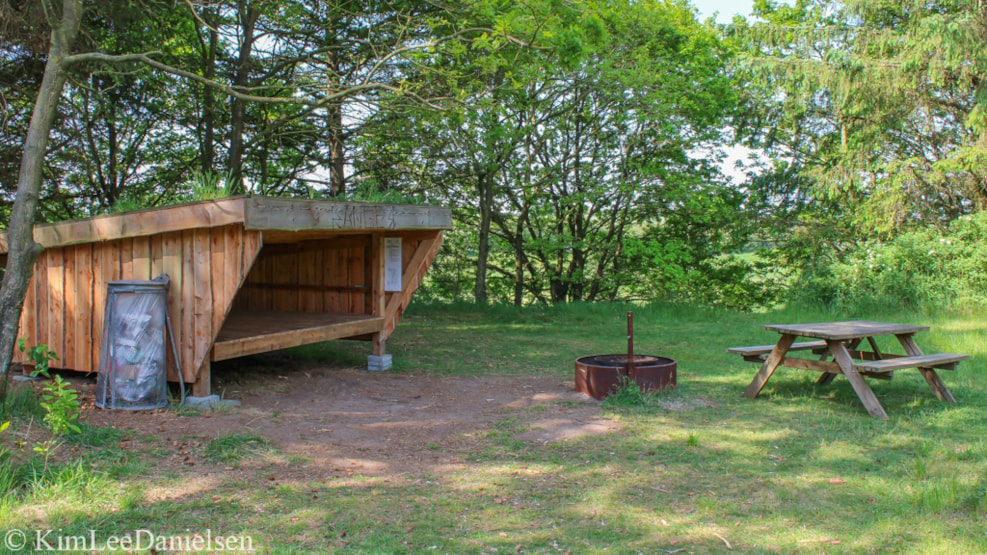 Shelter at Hjartbro Forest
Enjoy the meandering Gels Å and the peace of mind in the forest at Hjartbro. There is access to a toilet at the Scout Centre.
Shelter by Gels Å and close to the walking route "In Ansgar's footsteps"
The shelter site is located on the edge of the camp site belonging to the Hjartbro Scout Center. It is sheltered by a fence with a view over Gels Å. There is a nice nature trail at the scout centre. The shelter is perfectly located in relation to the walking route "In Ansgar's footsteps". It is also possible to follow the nature trail in Hjartbro Skov (forest). It's about. 25 m from the water to the boardwalk. At the campsite there is a fire pit with a fixed edge, firewood and running water. There is access to a toilet with a sink at the Scout Centre.
If you need to come indoors, this is also possible, contact the landlord of the scout center (+ 45 74416869) to make a further arrangement. They have "Æ lille hytt"  a room for a total of 5 sleepers, with fridge, stove, tables and chairs. It costs DKK 450 per day.
If you need shopping opportunities, they can be found in either Bevtoft or Toftlund (5km).
Payment for an overnight stay in the shelter amounts to DKK 25/person/per day started, plus DKK 40 for lighting a fire (regardless of the number of people). Payment is made to a small money box set up in the toilet between the two small cabins. There is no booking option for the shelters.
Route instructions
Hjartbro Scout Center is located at the end of Hjartbro Byvej, which runs through Hjartbro town. There is a sign there that points you in the right direction for the scout centre.
Contact and booking
Tel. + 45 41 13 45 40 if you have questions. Note that there is no booking at the shelters, it is a first-come, first-served basis.
VisitSønderjylland © 2023