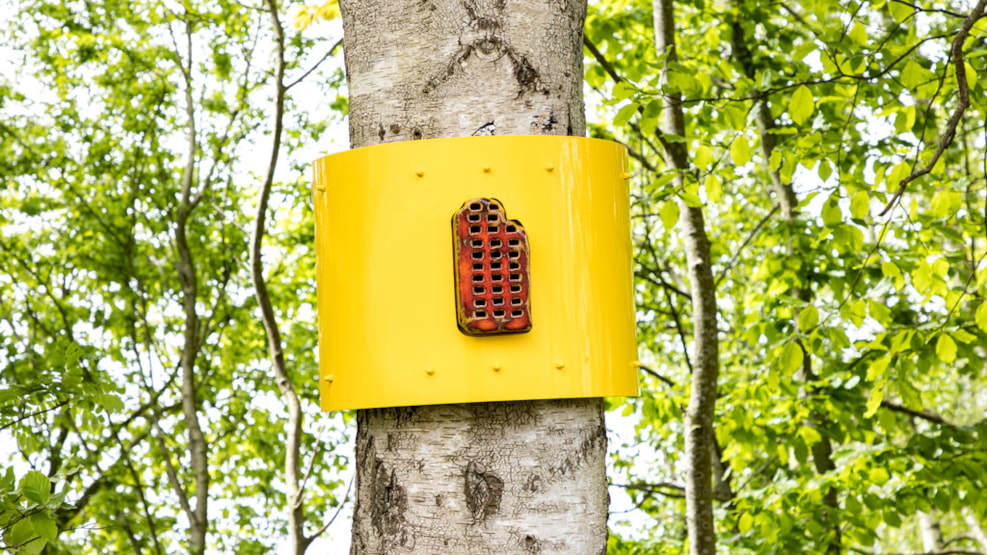 Rings of Reunion
This work of art is found at the culture house Forsamlingsgaarden Sundeved, it is one of the 7 art designs within the art project "Reflections", a more permanent celebration of the 100 year anniversary of the Reunion in 1920.
This artwork is made by the artist Iris Fridriksdottir born on Iceland. The artwork is full of symbolism. Iris Fridriksdottir has put up steel rings around the stems of the 100-year-old beeches, the rings are decorated with pieces of 100-year-old brickwork painted with glaze in the colours of the flags of Schleswig-Holstein, Denmark and Germany.
5 rings of the materials: steel, brickwork, aluminium and glaze.
You can read more about the artwork, the thoughts behind it and the artist in the Danish/German web-catalogue.
The art project "Reflections" is financed by Fabrikant Mads Clausens Fond.
The inauguration of the artwork is a bit of a reunion story of its own. The first date for the inauguration was cancelled due to the COVID-19 lockdown in Denmark.
"Rings of Reunion" was inauguration 12 September 2020.
VisitSønderjylland © 2023