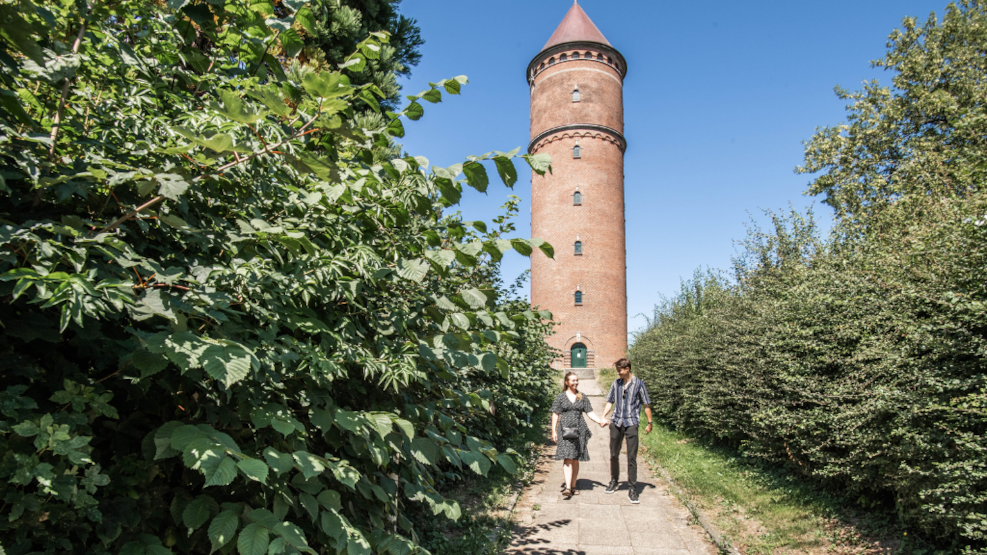 The red water tower
The landmark of Haderslev.
Get to the top in Haderslev
The water tower was build in 1924 and worked toward plentiful and clean water-source for the town population that only grew after the reunion. The tower was first put to use on first of January 1925. The tower was made of concrete and wrapped with red brick. 
The tower added with its height a sight attraction in Haderslev. An exiting viewpoint can be reached from the top of the tower. There was public access to the tower from 1924-1966. The view of the town rooftops, green land and blue water is beautiful.
Since then a second 'white tower' was added to Haderslev at christiansfeldvej in 1991 and the red water tower was no longer put to use as a water tower.
The water tower has two functions today: one is to hold high the advent star in the last couple of weeks of the year. The second is to function as a symbol for the annual music festival 'Kløften festival', on the first day of summer break in June. 
The water tower can be visited every sunday i july and 6th August 2023, between 01:00 PM - 04:00 PM 
Family event: Lighting Haderslev's Christmas Star
On 27 November at 17:00, Santa will light the Christmas Star on The Red Water Tower in Haderslev. There will be bags of sweets for children and mulled wine, juice and apple turnovers on sale. Free admission to the top of the tower. TheClowns, a local group, will add an extra special touch to this cosy afternoon event. The group will play their own music inside the tower. TheClowns hope that their concert will become part of this established Christmas tradition. Some group members live close to the water tower. At this time of the year, they look forward to the lighting of the star, which creates a unique atmosphere in Kløften Park throughout the Christmas period. TheClowns' lyrical music evokes an atmosphere that is perfect for small, intimate concerts like those we can hold in the water tower. The group likes to experiment with all sorts of venues. The group loves to play in churches and believes that the Red Water Tower has something really special to offer as a concert venue. This is the third time TheClowns plays inside the water tower. They are looking forward to welcoming a large audience to shining stars, evocative music and lovely Christmas aromas – of mulled wine and apple turnovers.
VisitSønderjylland © 2023