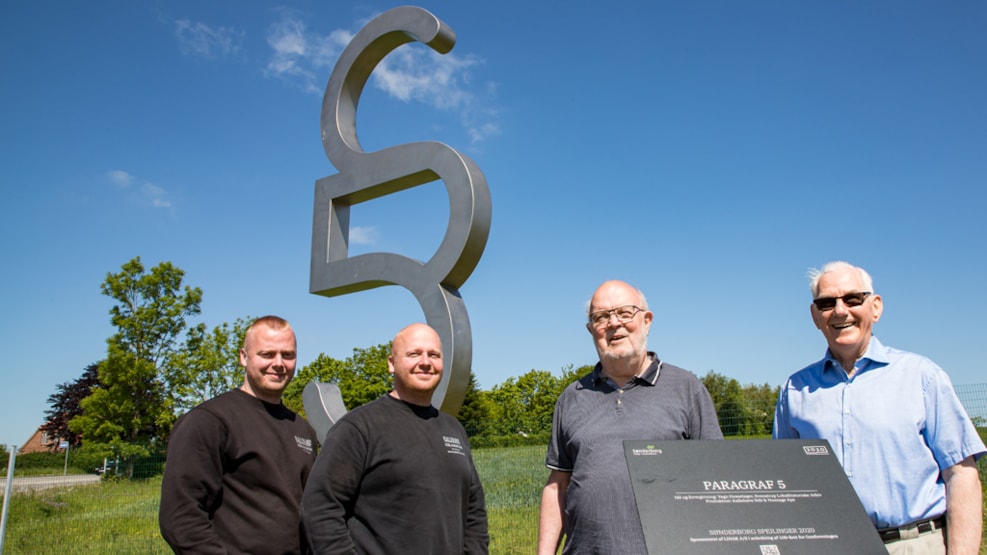 Paragraph 5
The art design "§5" is based on local history. The design stands as a symbol of the paragraph in the Peace of Prague, a local inn and the name of the crossroad where the design is placed.
The idea and form giving the work of the locals, Vagn Hesselager from Svenstrup Lokalhistorisk Arkiv and Matthias Jensen from Lokalhistorisk Forening for Svenstrup Sogn.
The art design is made in rust free steel, which is bead blasted and measures 6.6 x 2.5 x 0.3 metres. The art design is produced by the local firm Kallehave Stål & Montage ApS. This work of art is one of the 7 art designs within the art project "Reflections", a more permanent celebration of the 100 year anniversary of the Reunion in 1920.
You can read more about the artwork, the thoughts behind it in the Danish/German web-catalogue.
The art project "Reflections" is financed by Fabrikant Mads Clausens Fond and the art design "§5" is sponsored by the local firm Linak A/S.
The inauguration of the artwork "§5" is a bit of a reunion story of its own. The first date for the inauguration was cancelled due to the COVID-19 lockdown in Denmark.
The new date of the inauguration was 20 September 2020.
VisitSønderjylland © 2023