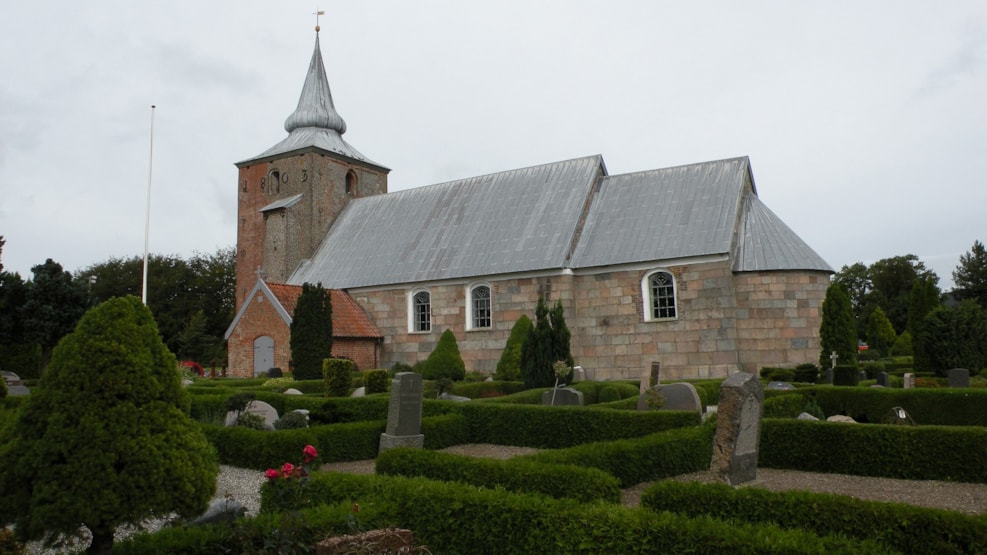 Oksenvad Church
The location was up to the oxen.
Are you planning a hike on the Ancient Road? Then we recommend a visit to Oksenvad Church. According to legend, the oxen decided where to build the church.
The church is a beautiful, atmospheric, well-kept granite ashlar-church from the 1100s. It blends harmoniously into the landscape. Step inside and notice the apses towards the east. The crucifix is an example of the transition between the Romanesque and Gothic styles. 
A legend tied to the church offers a possible explanation for the name of the place, "Oksenvad", meaning "Oksernes Vadested" (the oxen crossing). According to the legend, originally construction began on the church on the other side of the stream; but what was built during the day was found demolished the next morning. It was decided that two oxen would be tied to a beam, and wherever they stopped, the church would be built. The oxen crossed the stream and stood still where the church stands today.
If you would like to see the church from the inside, please contact Digger and Verger Flemming Petersen at +45 40 43 00 71 or find an employee at the graveyard.
VisitSønderjylland © 2023