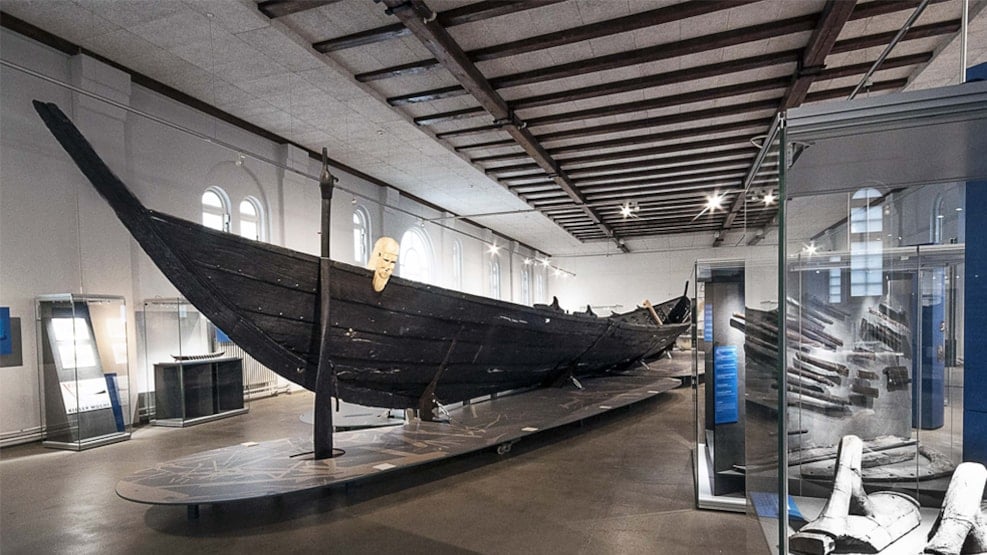 The Nydamboat
North Europe's oldest, clinker-built boat is perhaps only unique due to the circumstances and time it was found, and is seen today as a central part of a Iron Age exhibition in Germany.
It is Monday August 17th 1863. The Danish teacher and archaeologist Conrad Engelhardt has been leading the excavation of the Nydam Bog since 1858 and until now, there has been findings of weapons and military equipment, but on this day, they come across planks of Oaktree. This find will turn out as a sensation within maritime archaeology.
Three boats is found in the bog, one of them is a very well preserved boat in pinewood. The time for the findings could not be more unfortunate. The war of 1864 not only puts a stop to the excavating but also to the protective and conservative work of the findings, in a rush some of the boat parts is covered while others is removed.
In secrecy, Conrad Engelhardt succeeds transporting one of the boats to Zealand while the two remaining boats are lost – the winter 1863-64 is extremely cold and it is believed that amongst other wooden parts the pinewood boat ends up in the bonfires of the Prussian soldiers.
A few years after the end of the war a stipulation in the peace, treaty results in a deliver over of the boat to Germany, much to Engelhardts regrets.
The oak boat received by the Germans turns out to be the remains of a sea worthy, clinker-built boat. It represent a maritime link between the Hjortspringboat and the Viking ships. Lacking a mast and sail, we are talking about a very large rowing boat dating from 320 AD.
Today the Nydam Boat is the key piece in the Iron Age Exhibition at Gottorf Castle in Germany.
VisitSønderjylland © 2023