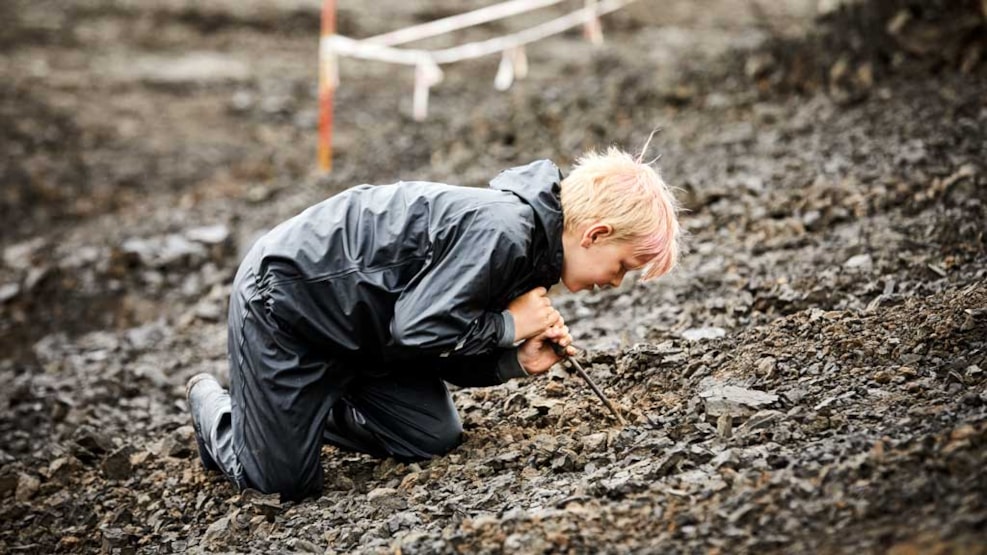 Museum of Southern Jutland - Gram Clay Pit - Paleontology
Visit the museum in Gram and see the 10 million-year-old whale fossils, afterwards you can go fossil hunting in Lergraven as a fossil hunter.
Go fossil hunting with the whole family
Perhaps the weather isn't particularly suitable for a swim or a day lazing on the beach in the sun? And perhaps you would rather do something special, where you might have the opportunity to bring home a very special souvenir? Then you might consider paying a visit to a 10-million-year old seabed, where you might be lucky to find a sharks tooth, still sharp enough to cut a nice clean cut into a piece of paper.

Between Haderslev and Ribe, just outside the town of Gram, you'll find a small museum situated close to an old clay pit.

The museum and Gram Clay Pit are attractions for the entire family. Exciting displays in a museum scenically situated in Gram Forest and a clay pit, where you can become a "fossil hunter" for en entire day.
The museum lends the necessary digging equipment, and if you have forgotten rubber boots, the museum also has boots in both children's and adult sizes that can be borrowed. During the holiday periods, the fossil hunt is staffed with a Fossil Hunter guide who gives digging tips and talks about the fossils that are found. Outside the holiday periods, you have the opportunity to watch an introductory film about fossil hunting at the museum, where the museum host can also talk about your finds. You are allowed to take most fossils home, but always show what you find to the staff - perhaps it is a rare fossil that must be handed in as a gift.
Schools can contact Museum Manager Asbjørn Holm, asho@msj.dk, or +45 65 37 07 74 for a tour during the period where the museum is closed.
VisitSønderjylland © 2023