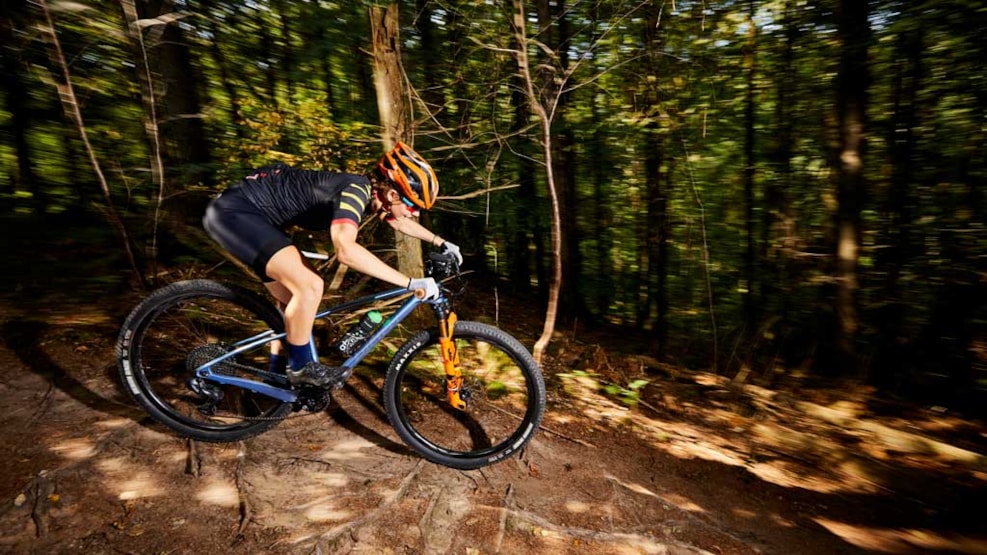 MTB-Tour in Pamhule Forest
The mountainbike route in Pamhule Skov must be experienced!
The route is one-way and goes through 11,1 km forest floor. Pamhule Skov, which is app. 300 hectares, is dominated by hardwood and is the biggest of the forests in the area. The name refers to "the forest at the ravine (hule) in the hills (pamp)".
The route consists of 83% "singletracks" and the rest of the route is on gravel roads. It is considered a medium hard route with a total rise of 153 meters up. The route is covered with signs and clearly marked with white direction arrows and MTB-pictograms.
Therefore you can safely venture out on the route from the start and finish area at the parking space at Damvej in the northeastern part of the forest. Alternately you can use the parking space at Pamhulevej in the southern part of the forest.
On the route, you will meet several technical passages and challenging descents, which sets the scene for lots of entertaining driving and, at times, an adrenaline rush. There are challenges for everybody, even the more experienced MTB-riders. On the route, the rider has to climb e.g. Udsigten (the view) and Bjerget (the mountain), which can leave most people breathless.
The MTB-route in Pamhule Skov is located in some of the most beautiful and hilly terrain in all of Southern Jutland. Several times, the route runs along impressive hillsides, created during the last ice age, and with a view of the other beautiful sites, such as the lake area Hindemade.
Get the flyer "På mountainbike i Pamhule Skov"      
Drive to Pamhulevej 96, 6100 Haderslev and take the gravel road next to the entrance. Follow the sign towards Hindemade/Dyrehaven. Keep going for about 300m to the parking lot, where the route starts and ends.          
Alternately, use the parking lot app. 1km further west on Pamhulevej   
VisitSønderjylland © 2023