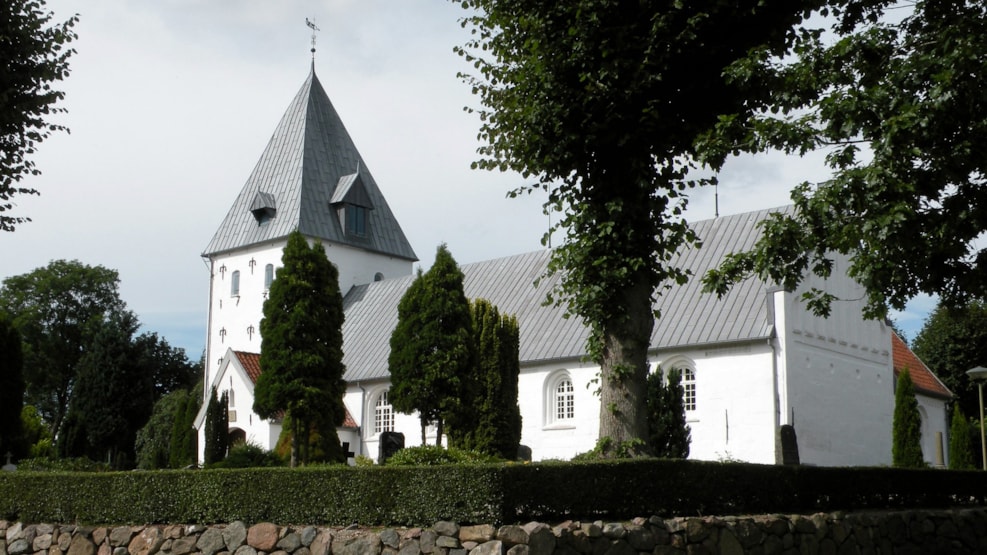 Maugstrup Church
The bell with a lovely tone.
In the centre of Maugstrup you will find Maugstrup church, which lies in the middle of the highest point of the ridge, approximately 60 meters above ocean level. The church borrowed money from Aastrup Church to pay for their bell, which was said to have such a lovely tone that the King wanted it delivered to him.
In the church you will find the alterpiece, which is a renaissance piece from 1610, made by carver Hans Dreyer. He was a very recognised carver and was employed as the royal carver at the former Haderslev Castle. The alterpiece is winged, which means that it contains an image in the centre and on the wings. In the middle you will see the Last Supper and on the wings Christ on the cross and Moses with his staff in front of the cobber snake.
According to legend, the bell had such a wonderful tone that when the King heard it, he wanted to have it delivered to him. But the locals did not want to give it up, so they cast lead in it to make the tone less clear.
To access the church, please contact the verger at +45 52 24 21 68.
In the rectory yard, where there is free access, is an ancient rampart, which was probably once the possession of a local lord. Here, in the 1620s, the priest Peder Wandal built a tower, where he started an astronomical observatory.
VisitSønderjylland © 2023