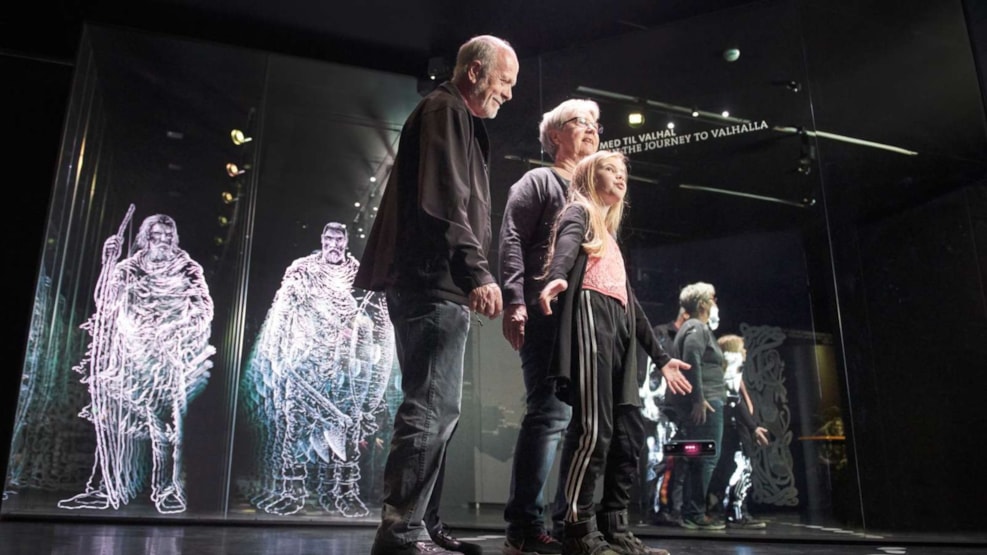 Kongernes Jelling – home of the Viking kings
The Kongernes Jelling (home of the Viking kings) experience centre at the Jelling Monuments invites the whole family to explore Jelling of the Viking Age. Through unique and modern digital sensory experiences, you can learn about the Jelling Monuments, life during the Viking Age and the old kings of Denmark.
Kongernes Jelling invites you on a journey through tales told with flickering flames to an age of Vikings and Valhalla warriors and the nation's transition to Christianity. Here you also learn about the Danish kings, from Gorm the Old to the present royal family. All told in a way that inspires children and adults alike with unique experiences.
The two digital telescopes on the rooftop terrace overlooking the monument area allow you to zoom in on today's Jelling, but also to gain insight into Jelling through the ages.

The experience centre is located just across from the large monument area where King Harald Bluetooth built a palisade structure that was the nation's largest in the Viking Age. Here you also find the two Jelling rune stones, the Jelling Church and the two royal barrows. These monuments have been under UNESCO World Heritage patronage since 1994.
Groups can by prior appointment book tours of the monument area with Danish, German or English-speaking guides.

There is free access to the visitors' centre for the whole family and we look forward to welcoming you.
Check the Kongernes Jelling website for special events as well as events during school holidays.
VisitSønderjylland © 2023