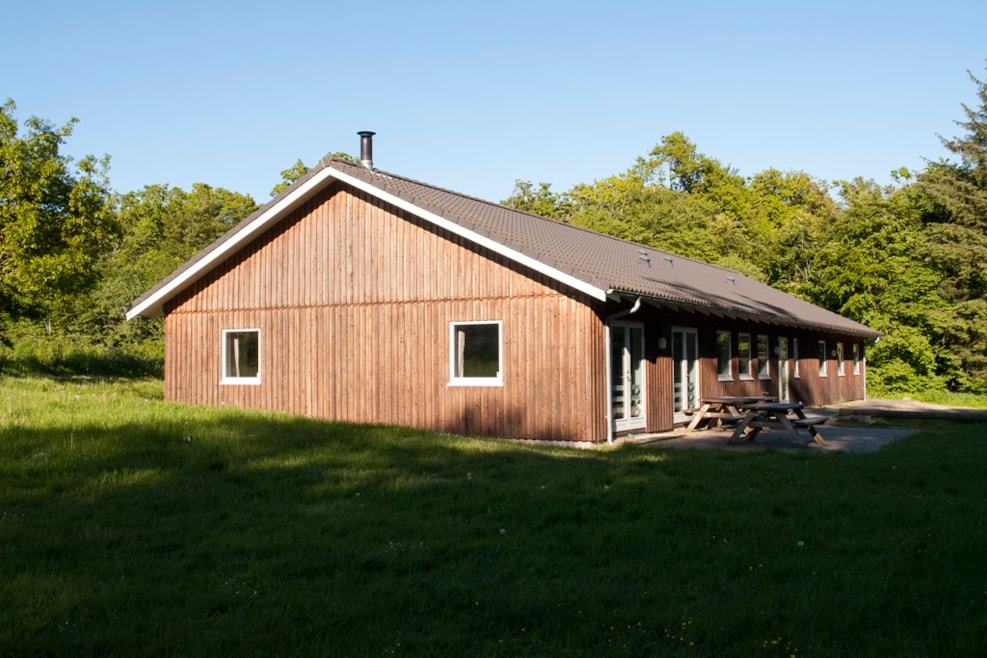 Irokeserhytten
Cabin with space for 40 sleeping guests close to the lake Slivsøen, and within walking distance to Vilstrup beach. There is a large kitchen and 3 bathrooms available.
Large camp cabin close to the lake Slivsøen, which can be rented
The main hall is about 60 m2 and there are table and chairs for 50 people, which makes Irokeserhytten an obvious choice for large gatherings. The cabin is located in scenic surroundings, within walking distance of Vilstrup Beach. The plot is 4550 m2 and is surrounded by forest.
The hall also includes a woodburning stove, should you need it. The cabin offers plenty of room for sleeping, as there is a total of 40 beds; 4 rooms with 4 bunk beds each and two rooms with 2 bunk beds each. The kitchen has two stoves/ovens, a fridge, a freezer, an industrial dish washer as well as dishes and cutlery for 50 people. There are three bathrooms, each with a shower. One of the bathrooms is equipped for the disabled.
It's not a real cabin if there isn't a fire pit, so of course there is. Here you have plenty of opportunity to cook over a fire, or just have fun around it. In addition, terraces with garden furniture etc. have been established, and there is also the option of pitching tents on the green areas around the cabin.
VisitSønderjylland © 2023