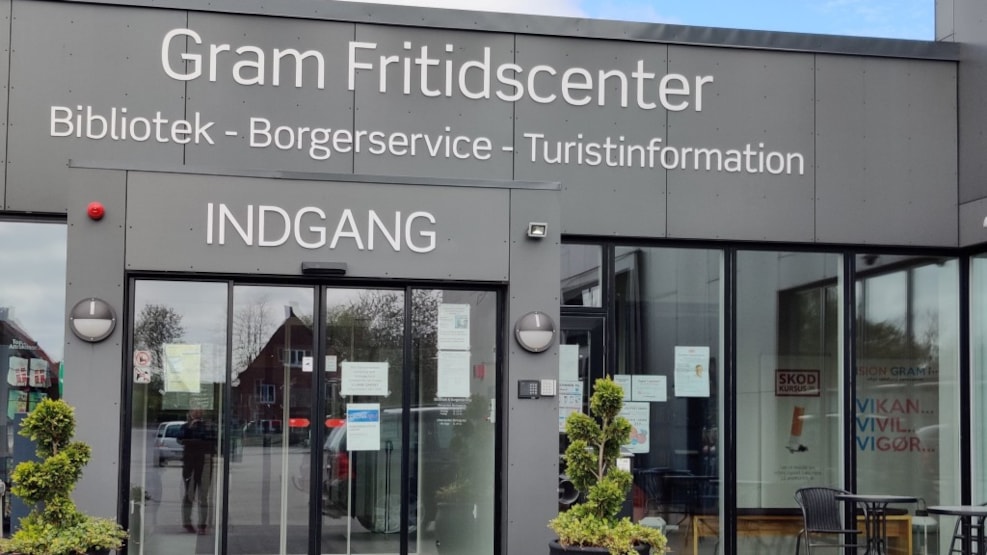 Infopoint - Gram Library
Find inspiration for experiences near Gram Library and in all of Haderslev Municipality.
While holidaying in Haderslev Municipality, there are 10 different infopoints to visit. Each has a stand with brochures and a screen showing local attractions and experiences, places to eat, accommodation and activities. There is a notebook at each stand that you can use to make note of your plans. Manned infopoints are open during the hours of opening at their location. 
At Gram Leisure Centre you can find lots of active offers. The leisure centre has 2 sportshalls, meeting facilites and a café. You can also try the super fun and challenging Motivity Centre, where you can find foam pits, tumbling tracks and trampolines. The leisure centre also has a lovely outdoor pool, which is open all summer; Here, you can take a refreshing dip and enjoy the sun from one of the lounge chairs. At Gram Leisure Centre you will also find Gram Library and the local citizen service office.
Here, you can see all the infopoints in Haderslev Municipality:
Infopoints (manned): 
Danhostel (hostel), Erlevvej 34, 6100 Haderslev 

Haderslev Turist information, Apotekergade 11, 6100 Haderslev 

Gammelbro Camping (camp site), Gammelbrovej 70, 6100 Haderslev 

Sandersvig Camping & Tropical Waterpark (camp site), Espagervej 15, 6100 Haderslev
Infopoints (unmanned): 
Tørning Mølle (historical centre), Tørningvej 6, 6500 Vojens 

Aarøsund Ferry, Aarøsund Havn 1, 6100 Haderslev

Årø Winery, Aarø 210, 6100 Haderslev 

Bispen Cultural Centre, Bispebroen 3, 6100 Haderslev. 

Gram Leisure Centre, Stadionvej 15, 6510 Gram 

Gram Castle, Slotsvej 54, 6510 Gram

Vojens Hallerne, Stadion Parken 6, 6500 Vojens
VisitSønderjylland © 2023