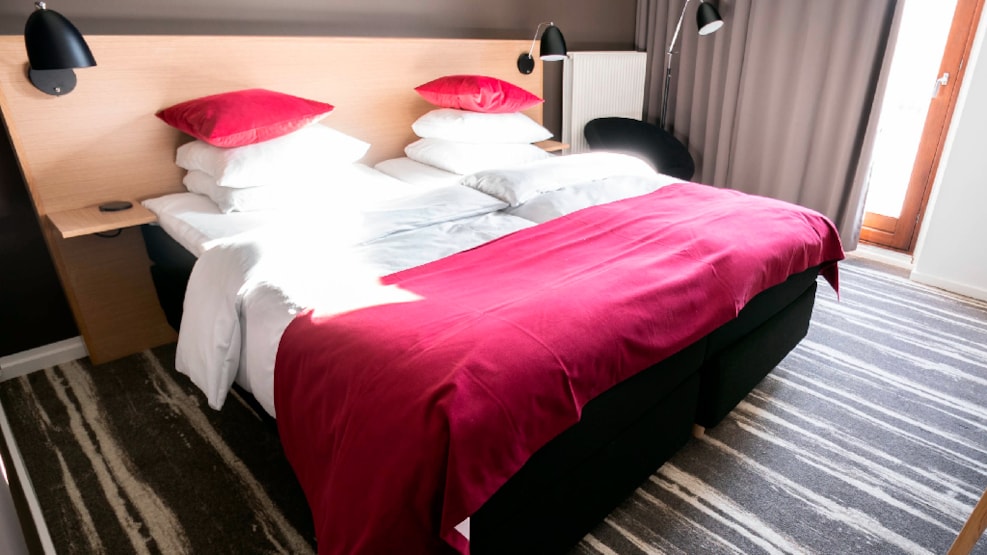 Hotel Kolding - Modern hotel in the center of Kolding
At the centre of Kolding close to Slotssøen, you find Hotel Kolding which is a welcoming hotel with modern and stylish rooms. The hotel serves breakfast every day to the hotel guests and, every weekend, the hotel serves a delicious brunch to the public as well as guests.
Hotel Kolding is a delicious hotel in the center of Kolding with 132 stylish, modern rooms and all imaginable comfort. Hotel Kolding is located by Slotssøen and a stone's throw from Koldinghus. The hotel is easy to get to both by bus and train, as the train station very close by. If you drive, we have a locked parking garage under the hotel that can be used for a fee. If you are a tourist, or if you have time to spare after a meeting, Kolding has a wealth of cultural offers. Visit the Trapholt Museum - Denmark's only museum where you can see visual arts, handicrafts, design and furniture design. And only 35 minutes from here is LEGOLAND®.
In more than one sense, Hotel Kolding is also 'The literary hotel': we are thus neighbors of Kolding Library, with which we have a close collaboration.
As our guest, we offer you to book time on the surrounding golf courses and give you good advice on what you can experience in and around Kolding - it is one of Denmark's oldest cities with plenty to offer, whether it is cultural offers, amusements or other things. We also offer wellness stays in collaboration with Queen Dorothea's Bath.
The hotel offers breakfast every day to hotel guests. Hotel Kolding is open around the clock, 365 days a year.
We are looking forward to welcome you.
VisitSønderjylland © 2023