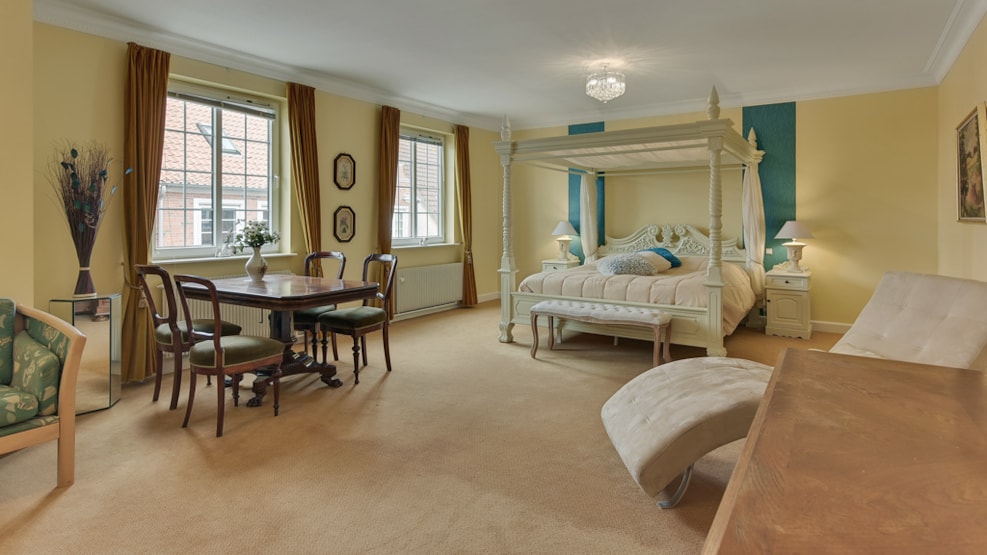 Hotel Det Gamle Rådhus - The Old Town Hall
The hotel with the royal room names and the central location in the castle town Gråsten.
The Hotel
With a great location, in the center of the pleasant town Gråsten, you will find DET GAMLE RÅDHUS – Hotel og Restaurant. The moment you enter the foyer there is an immediate sense of history and tradition. The rooms are renovated with gentle care and respect for the original building style.
All rooms, suites and hotel apartments are individually and stylishly decorated and furnished. Pampering and comfort are in focus when our friendly staff welcomes you to DET GAMLE RÅDHUS. Wireless network, cable TV and toiletries are available in the rooms.
With location in scenic Gråsten, near forest, beach and water, the seen is set for pampering and relaxation for both body and soul. We look forward to welcoming you and we will do our best to ensure that your stay will be exceptional.
Everyone is welcome at DET GAMLE RÅDHUS. There is a lift for wheelchair users, which gives access to the restoration, and of course we have disabled-friendly toilets and a disabled-friendly room.
Our Restaurant
You will be sent back in time when you enter the pleasant rooms at DET GAMLE RÅDHUS in Gråsten. The restaurant is decorated with inspiration from gone times by, the waiters are dressed in stylish, old-fashioned uniforms, and in the corner the old grandfather clock is ticking.
We offer a delicious classic breakfast table with yogurt, muesli, bakery bread, cold cuts and various egg classics of your choice.
After a good solid meal in cozy surroundings, you can go for a walk in the scenic Gråsten before the restaurant again opens for a tasteful lunch where the buffet offers classic Danish dishes made from the bottom of local quality ingredients.
Host your next party at DET GAMLE RÅDHUS
Let the atmospheric and cozy rooms at DET GAMLE RÅDHUS be the setting of your next party; confirmation, wedding, birthday or anniversary. Whether it is a larger party or an exclusive small circle we customize every event according to your wishes and needs.
If you need a place to host your next meeting, course or conference the historic and charming rooms at DET GAMLE RÅDHUS are the perfect choice. We customize the event based on your wishes.
VisitSønderjylland © 2023