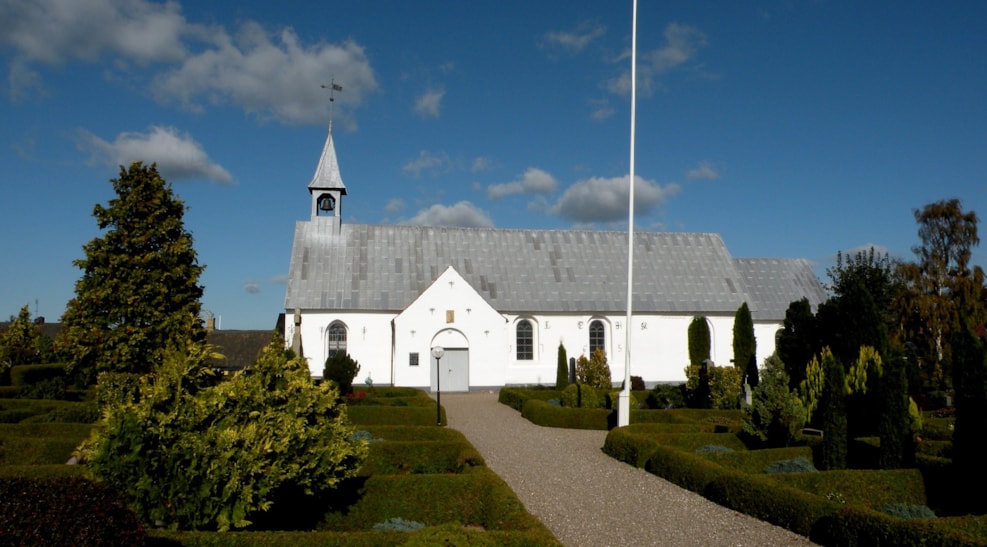 Hammelev Church
In the village Hammelev you will find the small and cosy Hammelev Church. The oldest parts of the church dates back to the middle ages. In the 1700s the building was extended with a weaponhouse and sacristy.
Hammelev Church is a whitewashed Romanesque ashlar-church with late-Gothic extensions towards the east and west. The traces of the extension are clearly visible outside on the northern wall. The nave and the late-Gothic choir is separated by a round arch. 
The alter tablet is a late-Gothic tablet from the second half of the 1400s. The center panel depicts a Golgotha-scene, flanked by Saint George on the left and Saint Catherine of Alexandria on the right. On the wings you can see the 12 apostles. The two alter candlesticks are also late-Gothic.
The church has a fine Romanesque granite font with arcades and winding vines, in which there is an octagonal baptismal plate from the 1600s. The pulpit is from 1729 and the sounding board is from 1651. The organ from 1916 was built by Marcussen & Søn in Aabenraa.
If you are visiting Tørning Mill, stop by Hammelev Church. At the cemetery you will find the grave site of the Boysen miller-family that owned and operated Tørning Mill until 1960.
VisitSønderjylland © 2023