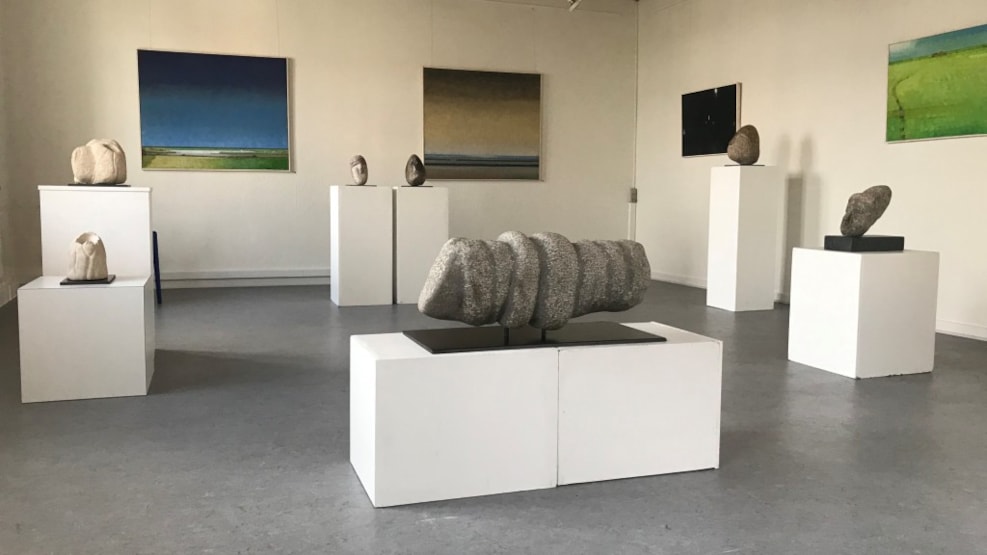 Haderslev Art Association
Art in the old harbour office.
Haderslev Kunstforening (Haderslev Art Association) has existed since 1925, and has had a large influence on the townscape in Haderslev. For many years, they have worked hard to get art and sculptures to Haderslev, and their influence can be seen especially in Damparken; in 1961, "Danaide" by Johannes Berg was erected with the help of Ny Carlsbergfonden, and in 1965 "To Drenge" by Jørgen Gudmundsen-Holmgren was purchased by Haderslev Municipality with support from the state art fund. Since then, more artworks have been added, amongst them "Flyvende Sejl" by Helge Holmskov, which is now the logo of the association.
The primary function of the association is, however, the many art exhibitions which today are housed in the old harbour office; here you can experience changing exhibitions with everything from photographs and paintings to ceramics, sculptures, graphics, fabric and yarn by many different artists, both known, local and international. The association also arranges exciting lectures about art and the different exhibitions.
You can see the current exhibitions and events on the website, www.haderslev-kunstforening.dk. 


VisitSønderjylland © 2023