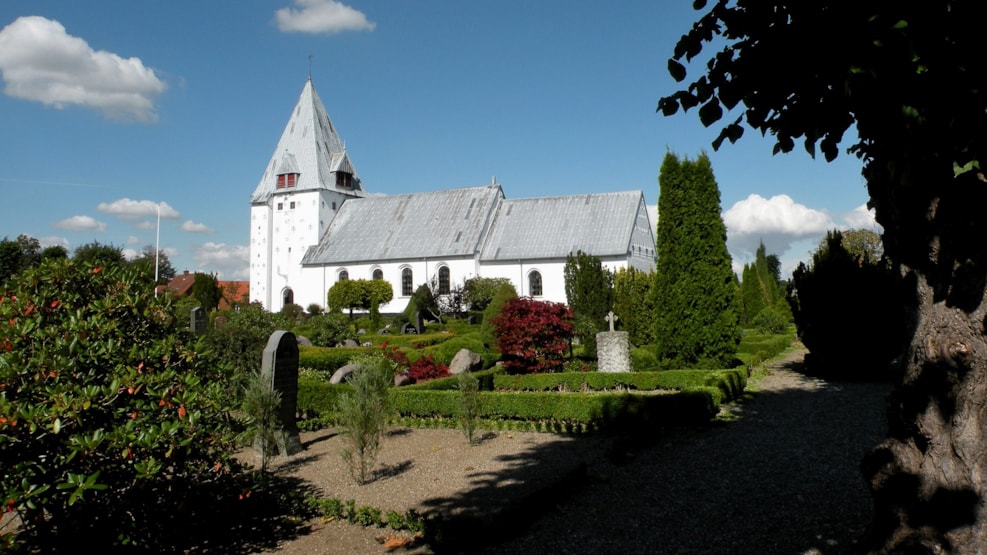 Fjelstrup Church
Late-Romanesque church with one of Denmark's finest medieval crucifixes.
Fjelstrup church is a big whitewashed church in late romanesque style. It was built with large medieval bricks and consists of a chancel and a nave. The church has been expanded with several extensions in late gothic style: an expansion of the chancel, an addition to the north and a tower to the west. At a later period a vestry was added to the north.
The nave has a flat plaster ceiling and the big chancel has been expanded quite a bit. In the 13th century two cross vaults were added and in the 14th century another one was added. The outside niches in the gable were added during this period as well.
The altarpiece contains pieces of an old renaissance styled altarpiece from 1617, but it was remodeled in 1864, at which point a picture of Christ on the cross was added. This picture has been swapped with the current picture,  which shows The Last Supper. The old picture of Christ on the cross still hangs in the church. Furthermore the picture "se det Guds Lam" ("see the Lamb of God") from the 18th century hangs in the chancel.
On the northern wall of the nave a beautiful crucifix from around 1250, in early gothic style. This crucifix is considered to be one of Denmarks most beautiful crucifixes from that period.
The  granite baptistry was made in romanesque style in the 13th century and the baptismal basin is from the early 1920's. The pulpit is from the 17th century and was made in renaissance style. Lastly, the organ was built by Marcussen & Søn in Aabenraa.
VisitSønderjylland © 2023