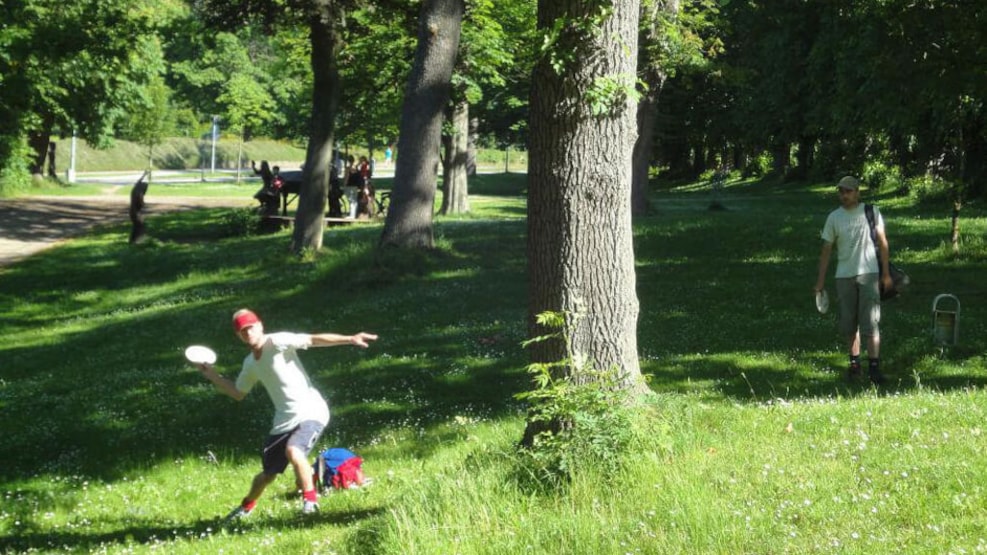 Disc Golf at Haderslev Dampark og Kløften
Compete against each other in this modern and hastily growing sport - invite the family for a round of Disc Golf!
Disc golf is a type of traditional golf where the golf club is switched out with a custom made Frisbee and disc golf basket. The goal is to hit the basket with your disc in as few throws as possible.
Disc golf is a fun, entertaining, and alternative type of golf which can be played by anyone, but at the same time it's challenging in terms of technical skill and precision.
In Haderslev there are two established courses by Haderslev Dampark and Kløften. Remember to bring your own discs!
You can also rent equipment at Sport24 Outlet, Sejlstensgyde 2, 6100 Haderslev, where a deposit of DKK 200,- is paid. 
Practical information
The course at Haderslev Dampark: Borgervænget 1, 6100 Haderslev (the course is located across Omkørselsvejen towards Haderslev Dam)

The course at Kløften: Gasværksvej 3B, 6100 Haderslev

The disc golf course at Kløften is closed during the period of time between mid June to August 1 due to the Kløften festival.
The rules of disc golf
Disc golf is played like traditional golf, but with a Frisbee as the golf ball and basket as the hole

Disc golf is played in groups of up to 4 people.

Each player throws from the tee spot (the start) towards the basket (the hole).

The next throw is performed from the where the disc landed.

The player who is farthest away from the basket throws first.

The disc is considered to be in the hole when it is either in the basket or hanging in the chains. Not if the disc is hanging above or below the basket, or if the disc has just touched the basket.

If a disc lands in a lake or on a road it is "Out of Bounds". The player receives a penalty throw and may throw the disc from where it left the course.

The number of throws is noted for each hole and added together in the end.

The player with the fewest throws is the winner.

Enjoy! And may the best player win.
VisitSønderjylland © 2023