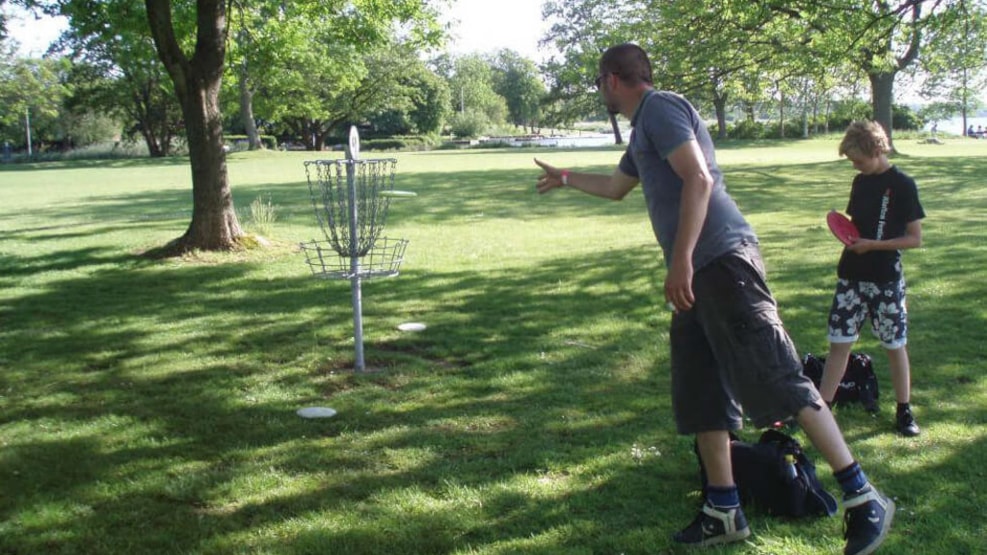 Disc Golf at Gram Castle
Challenge friends and family to a game of Disc Golf in the beautiful surroundings of Gram Slot.
Disc Golf is one of the newer sports in Denmark. The sport is about golfing with a frisbee instead of a ball, and throwing it into a basket instead of gliding it into a hole. The winner is the one who completes the whole course with the least amount of shots. 
The sport is now available for locals and tourists in the most beautiful surroundings around Gram Castle. The course is divided into 3 zones with 6 baskets in each, giving you a total of 18 baskets to play with.
The Disc Golf Course is free to use and open for rounds everyday, as long as you have a frisbee to throw.
You can rent Frisbees in the café at Gram Castle. Opening hours are from 8am-4pm.
The rules of disc golf
Disc golf is played like traditional golf, but with a Frisbee as the golf ball and basket as the hole

Disc golf is played in groups of up to 4 people.

Each player throws from the tee spot (the start) towards the basket (the hole).

The next throw is performed from the where the disc landed.

The player who is farthest away from the basket throws first.

The disc is considered to be in the hole when it is either in the basket or hanging in the chains. Not if the disc is hanging above or below the basket, or if the disc has just touched the basket.

If a disc lands in a lake or on a road it is "Out of Bounds". The player receives a penalty throw and may throw the disc from where it left the course.

The number of throws is noted for each hole and added together in the end.

The player with the fewest throws is the winner.

Enjoy! And may the best player win.
VisitSønderjylland © 2023