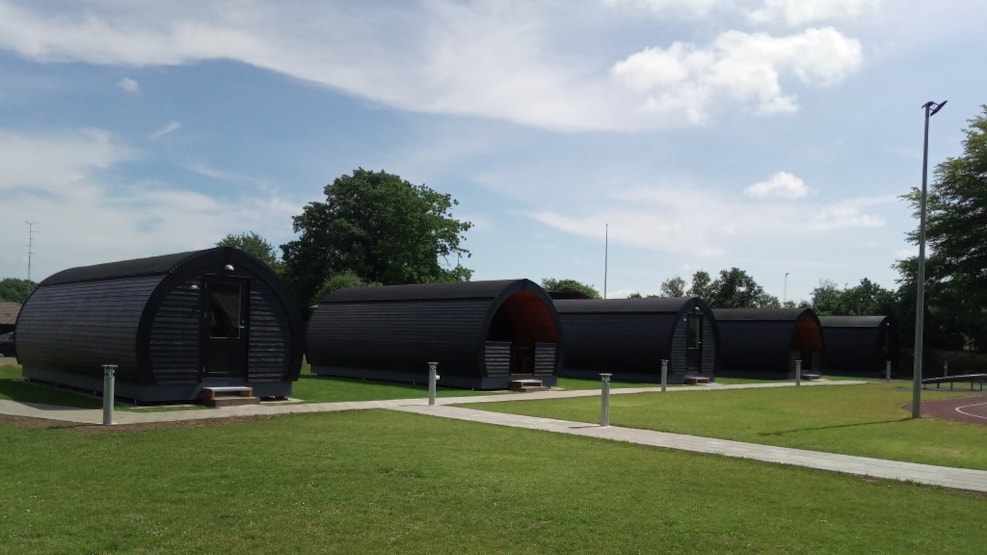 Cabins at Gram Leisure Centre
At Gram Leisure Centre you can now spend the night in one of the six comfortable new cabins.
If you book a cabin at Gram Leisure Centre you are guaranteed a host of active offers on your doorstep!
At Gram Leisure Centre you will find a long list of activities gathered in one place - from the calmer activities, like a visit to the library or a quiet moment in the café, to the more active such as fitness, motivity centre with trampolines, foam pits and airtracks and a refreshing outdoor pool, which is open throughout the summer. On the grounds you will also find miniature golf, a multi-track and a pump-track course, which you are welcome to use as a guest in one of the cabins.
The 5 cabins each have room for 6 sleeping guests; 1 double sofa and 2 bunk beds, as well as a cosy nook with room for games and relaxing. You will find a nice bathroom with a toilet and shower, as well as an electric kettle and a small fridge; however, there is no kitchen and cutlery. You will also find free Wi-Fi in all cabins, as well as parking nearby. The cabins are non-smoking and you are not allowed to bring pets.
Bed sheets and towels are mandatory. A set costs 65 DKK.
See more information and prices here.
VisitSønderjylland © 2023