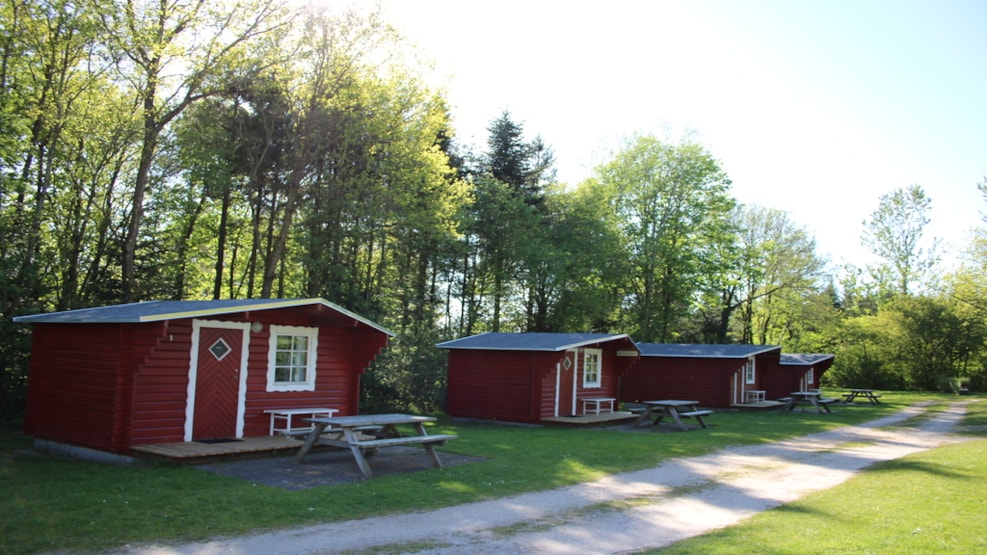 Cabins at Enderupskov Camping
Enderupskov Camping is the perfect location for you, if you are looking for peace and nature, but still a short distance to sights in Southern Jutland.
The village Enderupskov at Gels Å between Ribe and Gram is one of the most extraordinarily beautiful natural landscapes in all of mid-South Jutland. The next-door neighbour is Enderupskov Camping, where you can rent rooms and cottages, or stay in your own caravan. 
Enderupskov Camping and its buildings underwent extensive renovation in 2013, which means that all the camping facilities, rooms, cottages and the restaurant appear very nice and welcoming.
The site has several cabins for rent, each with space for 4 people. There are two sizes of cabins, and in the larger cabins it is possible to buy an extra bed for a 5th person. Pillow, blanket, bedsheets and towels are included, however the cabins do not have toilet or shower; you will find toilet and shower facilities in the service building.
Dogs and cats are allowed in the cabins against a daily fee.
Smoking is not allowed.
Sights in the area:
Within a radius of 5km you will find Ribe Golf Club, fishing lake, Gels Å and Gram Å, forest for dogs, mountain bike routes as well as several hiking trails. Just fifteen minutes drive from the camp site, Denmarks oldest town Ribe is located. Here you will find the famous Viking-museum, a charming cobblestone-clad pedestrian shopping street and Denmark's best preserved town centre from the middle ages.
Less than a 10 minute drive in the other direction, you will find the town of Gram where you can visit the historic Gram Castle, which offers a wide range of attractions, from a stroll in the castle park, to a visit to the Castle shop or Café, or perhaps, for the brave, a guided Ghostwalk around the castle.
VisitSønderjylland © 2023