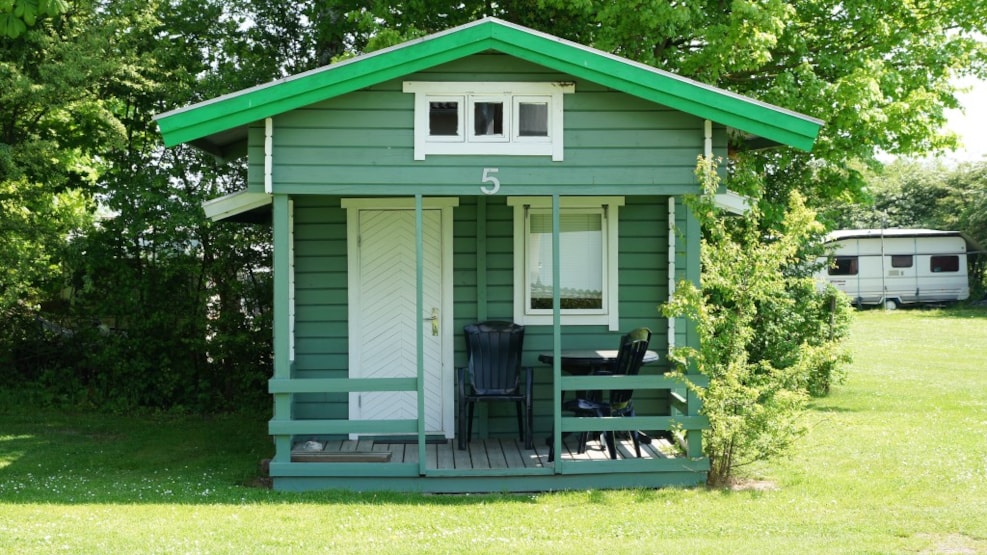 Cabin rental at Aarø Camping
Go to Aarø on a cabin holiday and make use of the facilities at Aarø Camping. There is a shop, café and petting zoo. Choose between two different types of cabins.
Welcome to Aarø. The most amazing island with glorious nature and the water up close all the time. When you reach Aarø Camping you will find a site with lots of light, shelter and not least, space. From here, you can venture out into the community and discover all the unique offers, activities and products to taste on the island. Visit the local Aarø Winery and try the local wine whilst gazing out onto the vineyards. Try a game of parkgolf or stop by the historic Brummers Gaard, where you can enjoy a lunch at the café, buy local island-specialties in the shop or rent bikes, golfcarts, kayaks, fishnets for children and pull-carts for all the adventures and experiences around the island.
The site itself is build around an older, dismantled farm, and the old buildings are the frameworks of the site. In one wing of the building you will find the reception, where check-in and check-out is handled. Here they will also help you mail postcards and guide you towards different excursions, both on the island and on the mainland.
If you are not bringing your own caravan, you will also find the opportunity to rent cabins or caravans. On site you will find 2 different kinds of huts. Type 1 includes room for 4 in bunk-beds and kitchen with tableware, refrigerator, coffee-maker etc. Type 2 includes room for 2 adults and 2-3 children on a loft-bed. This cabin also includes a kitchen with tableware, refrigerator, coffee-maker etc. None of the cabins have running water, but they are placed close to kitchen- and bathing facilities. In addition to the cabins, the sight also has 2 rental caravans with room for 4 people in each.
See an overview and pictures of the caravans and cabins here (in Danish).
VisitSønderjylland © 2023