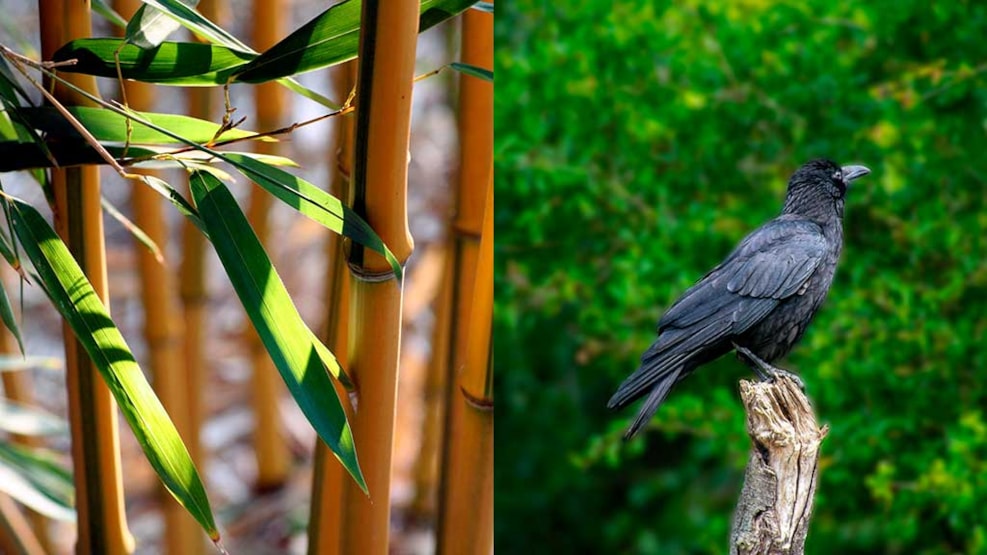 Avnbøl Sned - Bamboo and Raven Forest
A small natural gem that offers both fun and different nature experiences.
If you drive along route 41 in the direction of Aabenraa and turn left onto Bojskovvej, approx. 2.5 km after the roundabout at Ullerup, a small forest appears on the left after approx. 500 meters.
Avnbøl Sned is approx. 44 hectares and here you will find 2 round mounds and a long shaft, all of which can be dated to the Stone Age (3950-2801 BC). The planting is mainly beech trees, with oak, ash and birch trees as well as red spruce and then there is the Asian, which is not native to the Danish forests – yellow bamboo.
When there was a shortage of bamboo in Denmark during the Second World War, a local forester thought that a good business could be made, so he bought yellow bamboos and planted them in the forest, and it is offshoots of them that you can see today on the "bamboo trail" ".
If you are in the forest when dusk sets in, you will experience flocks of large black birds that seek out the forest. Avnbøl Sned is one of the few raven forests in Denmark, where the mythological bird spends the night.
Nature guide Andreas Hermann has written a recommendation for the forest, which can be found via the link - The bamboo forest - Avnbøl Sned
You will find a map of the forest under the Download tab.
Troels Trier Mørk (1906-90)
The aforementioned forester was a well-known personality in the Broager area and around Nørreskoven on the island of Als. During the occupation in the Second World War (1940-45) Troels Trier Mørk was employed as a state forest officer, but at the same time he was also the head of a camp for German refugees in Broager, together with mr. Aretz from Germany, and a freedom fighter, where among other things he trained shooting in Skelde Kobbelskov with his group of resistance fighters. The weapons were hiiden at the long barrows in the forest.
During his time as a forester in Nørreskoven, he lived with his family at Nygård in the northern part of the forest. Here, among other things, he bred wild boar, which was not always completely without challenges. One of the sows had a habit of breaking out of the stable when she had to give birth - then Sofie disappeared into the forest and appeared a few days later with a litter of striped boarlets.
Troels was not afraid of trying out culinary specialities, neither at home nor on his travels abroad, and it also resulted in 2 cookbooks; Skovfogedens Vildtretter with game dishes and Skovfogedens Fiskeretter with fish dishes. Here you will find recipes for everything from roman snails to rook youngsters as well as the small toothed whale, the porpoise.
VisitSønderjylland © 2023