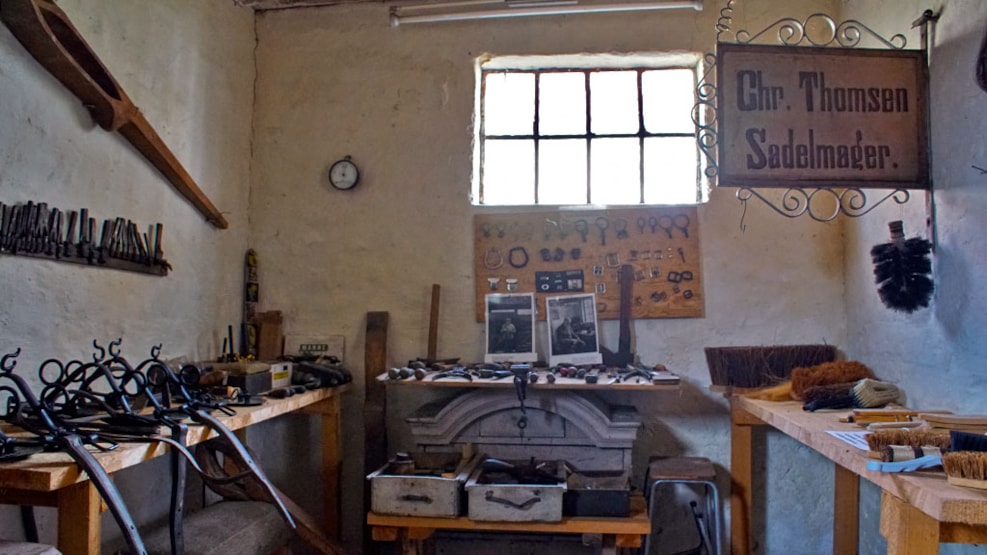 Augustenborg Egnsmuseum
Small museum with workshops and an apartment in the 19th century.
The house, Slotsallé 10 A-E
The hospital was built in 1775 by Duke Frederik Christian I. Here were a total of 10 apartments, which were used as free housing for widows and others who had earned their living. The many doors in the facade show where there was a common entrance to a small hallway with doors to 2 apartments.
Today, the building houses the Local History Archive for Augustenborg and the surrounding area, which has chosen to preserve one of the original apartments and has set up a regional museum in the back house, where there were originally laundry and drying rooms, as well as toilets and fire wood storage.
The apartment of the 19th century
Furniture from an estate put a boost to the decor of the small apartment. The door from the common corridor, from which there is also an entrance to the archive, leads directly into the small kitchen with open fireplace and the adjoining living room / bedroom. With the exception of the modern heating installations, the small rooms look almost like when they were built in their time.
The regional museum in the back house
As a complete saddlery workshop was handed over in 2003 after saddlemaker Christian Thomsen in Almsted, the idea of ​​a museum took shape. Today there is also a shoemaker's workshop and many objects from everyday life, such as a pig's mother, equipment from the fire brigade and even a carriage from the psychiatric hospital at Augustenborg Castle, where the dead were driven.
A staircase leads up to the attic, where, among other things, a number of old tools, skates and sleds are displayed, as well as a burner from Taksensand Lighthouse. Be sure to take care of your head both up the stairs and up by the beams.
Opening hours
Open all year round, every Wednesday from 9 am - noon. From April to October it is also open on the first Wednesday of the month from 4-6 pm.
VisitSønderjylland © 2023