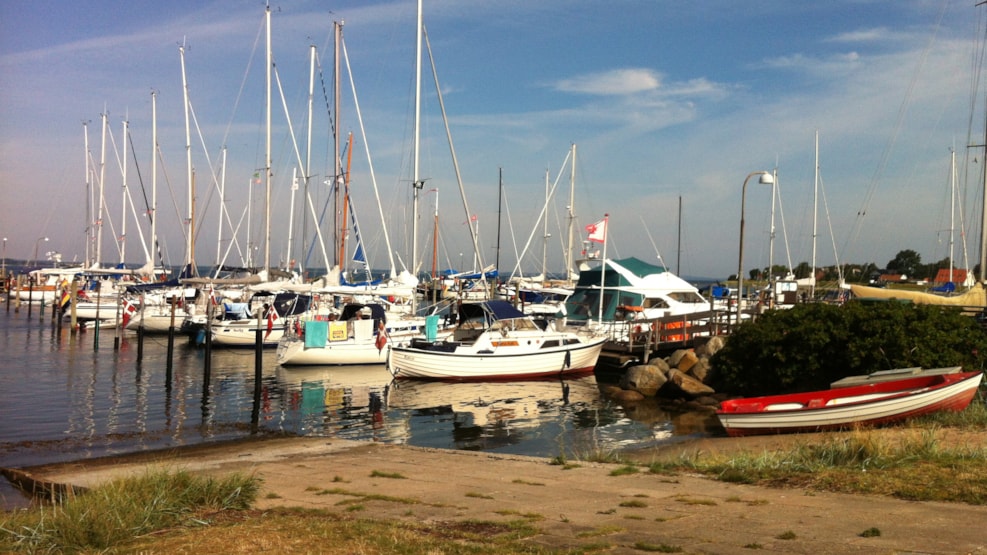 Aarø Marina
The quiet paradise in the Little Belt.
Aarø is an island totally at peace with itself and its visitors, where the local fishermen lie alongside sailors in its maritime surroundings. The island lies just outside the entrance to Haderslev Fjord and is an attractive place to stay overnight on your way through the Belt.
Before the reunification of Southern Jutland with Denmark in 1920, the island was Germany's northern most island, and today it is the home of approximately 160 inhabitants. Most of them live in the small town called Aarø, an idyllic place with narrow streets, stonewalls and impressive old farmhouses.
The harbour is the home of the Aarø ferry, which connects the island to Aarøsund. Here you will find all the basic facilities, but very few shopping opportunities. Essentials can be bought at the barbeque kiosk at the harbour, at the island's camping ground or at the Café Brummers Gaard. Smoked fish can be bought several places on the island, look out for daily specials on the local bulletin board.
There are lovely barbeque spots on the harbour, a small playground, as well as a fine little crab fishing spot for children. The small vineyard Årø Vingård has won a handful of prices, and cultivates three kinds of wine: red wine, white wine and rosé. You should also pay a visit to our local Fishermen Association's "museum", a small hut with many interesting displays from the island's heydays as a fishing harbour.
You will also find great hiking opportunities, among others to the wildlife refugee Aarø Kalv. No matter where on the island you are, you will always have a great sea view.
VisitSønderjylland © 2023