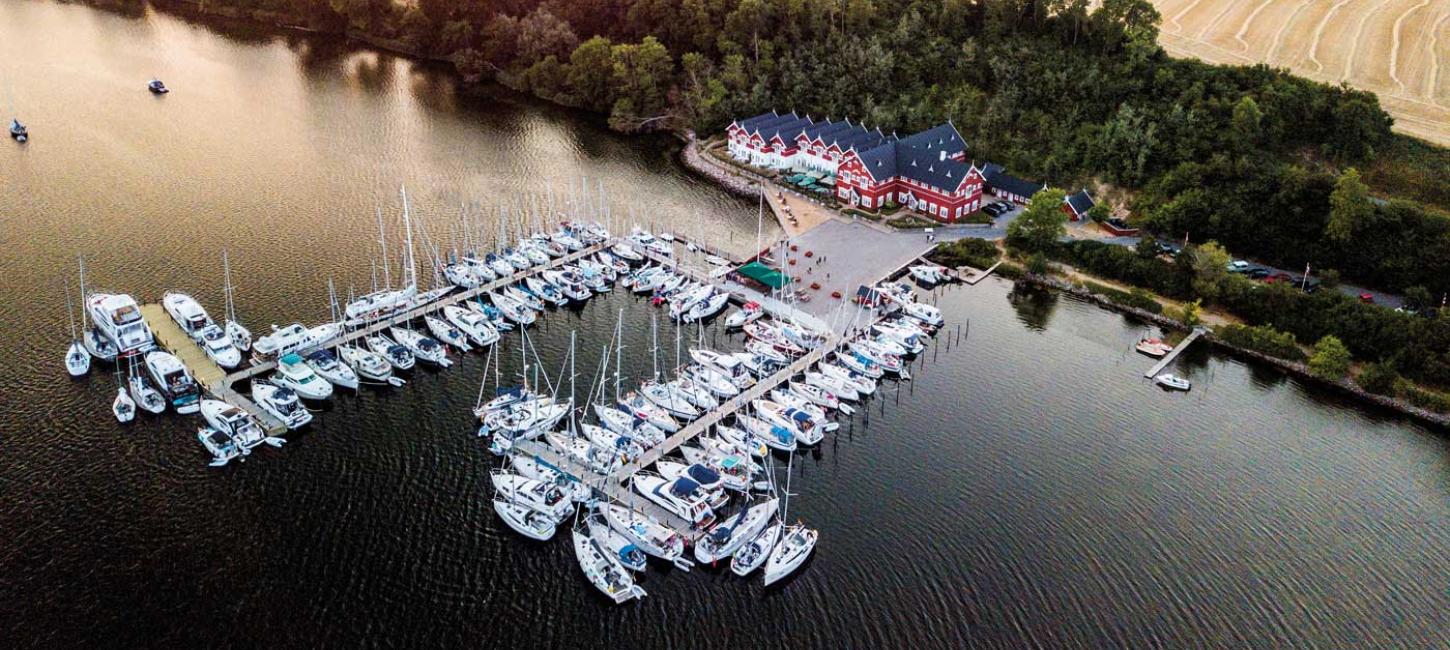 Dyvig Harbour
The picturesque harbour on Als.
Dyvig Harbour is one of the country's most beautifully located harbours, with yachters able to choose between two different marinas.
On both sides of the harbour, long lines of boats are moored at berths, whilst to the north the harbour is flanked by a picturesque beach hotel clad in bright red wood with white window frames and balconies and surrounded by yellow cornfields in a rolling landscape.
Welcome to Dyvig Harbour on Als, which is considered to be one of Denmark's most attractive and idyllic harbours.
The harbour has two marinas – Dyvig Bådelaug to the south and Dyvig Bro to the north. The former is a traditional member-based yacht club. The association has around 130 active yachters and almost 200 harbour berths, of which around 40 are for guests.
Dyvig Bådelaug has four jetties for yachts and motorboats and one for dinghies. The clubhouse has toilets and showers, as well as a barbecue, dining area and a large playground. There's also a grocery store and cycle hire. 
New for this year is a crab racecourse, where crabs can race against each other. Incidentally, Dyvig Bådelaug was voted harbour of the year in 2010 by Denmark's yachting association.
The other harbour, Dyvig Bro, is a private and relatively new harbour from 2009. It has 100 berths and a so-called guest harbour. Dyvig Bro is owned and run by brothers Bent and John Larsen.
When looking at the boats as you walk round the harbour, Dyvig Bro appears to be the more exclusive of the two marinas. Prices for mooring at the quay are also higher in Dyvig Bro – whilst the same can also be said of levels of service – for example, as a guest you can have freshly baked morning rolls brought to your boat.
Dyvig Harbour is a lovely spot to visit in your own boat – regardless of which of the two marinas you choose. You don't have to be a yachter to enjoy the harbour, however, as the picturesque surroundings and the peace and quiet can be enjoyed by everyone.
VisitSønderjylland © 2023