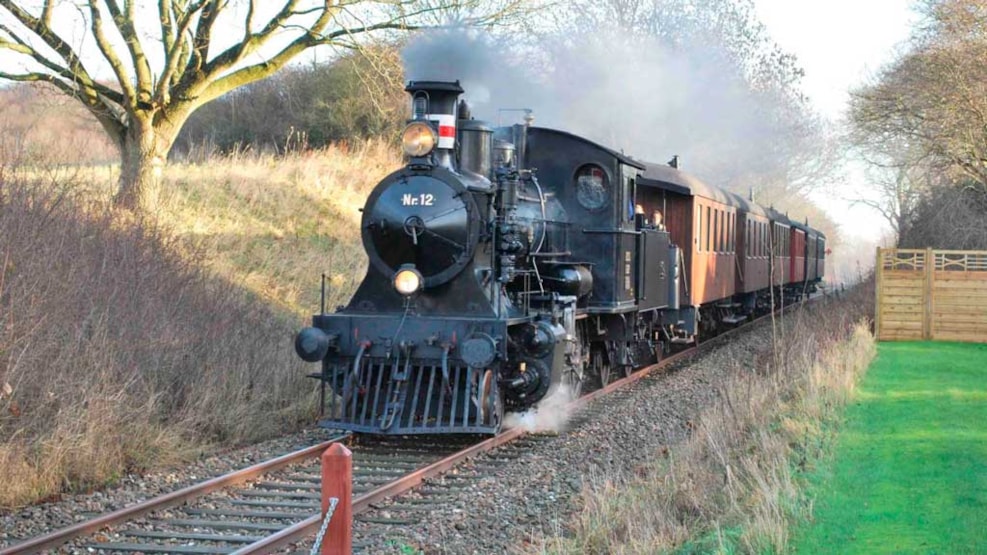 Tørning Expressen
The perfect experience for the entire family.
 Guided tour by steam train, horse-drawn carriage and boat – a great family day out!
Expected to be available in week 42 during Autumn break. 
The steam train leaves Haderslev West station at 10:30. At Hammelev, all change to horse-drawn carriages that take you to Tørning Mølle. At Tørning, a guide tells you the story of the ancient castle mount and its surroundings (including some very old trees).
Fishing in the lake for older children. A sandwich/sausage and soft drinks are included.
The horse-drawn carriage continues through Teglholt woods to Christiansdal. We learn how the Christiansdal power plant works. The plant is more than 100 years old and still produces green energy. As we travel through the state-owned forests, the guide tells us about natural forestry – and about giving woodland back to Mother Nature. We walk a short distance to the jetty at Damende. The lake boat takes us to Bispebroen in Haderslev.
A five-hour round trip – with several guides en route
Tickets:
Buy your tickets at www.booksonderjylland.dk 
This tour is brought to you by Tørning Mølle (historical centre), the Haderslev-Vojens Veteran Railway, Schleswig Carriage Collection and Haderslev Lake Boat.
Timetable:
Departure Haderslev West at 10.30 AM
Arrivale at Vojens Station at 11.00 AM
Departure from Vojens Station at 11:30 AM
Arrivale at Hammelev Station at 11:45 AM
Departure from Damende Station at 17:45 PM